pursuits
Michael Vick Goes to Cooking School
By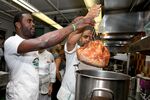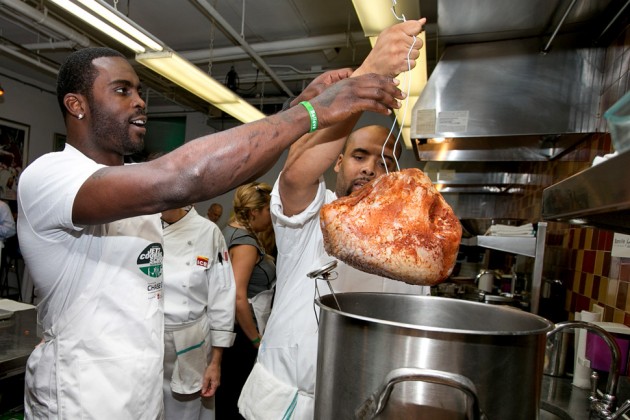 On Monday evening, New York Jets quarterback Michael Vick stood in an industrial kitchen in Manhattan behind a bowl of kale and a reconfigured wire clothes hanger wrapped around a turkey breast. In white Nikes, a T-shirt, and an apron, he eyed a crowd of about 100, all at the Institute of Culinary Education to cook a Thanksgiving meal alongside their football hero. Vick said he was mostly here to learn how to fry a turkey.
"I've been wanting to learn how to do it for a long time," he said. "I just need to figure out how to hook that thing in." That thing is the clothes hanger, one of 12 that the professionals at ICE had wrapped around individual turkey breasts like Christmas sweaters.
This is the second year that ICE has hosted cooking classes for Jets fans. The so-called Official Jets Cooking School: Tailgating Division lets students mingle with players and professional chefs while learning how to turn game-day dishes into culinary art. Meanwhile, it gives ICE entrée to a new client base and the Jets a way to keep die-hards happy. "It's a natural brand extension for both of us," says Brian Aronowitz, ICE's chief marketing officer.

Those uninterested in football may only know Vick's name from his 2007 prison sentence for running a brutal dogfighting ring. Football fans, however, have watched Vick spend most of the five years since leaving prison publicly making amends for the crimes, with charity events through his Team Vick Foundation and outreach work with the Humane Society. The apology tour behind him, Vick is free for non-penance-related fan photo ops like the ICE event. Vick joined the Jets this year and took the starting job last month, amid a rocky season for the franchise.
The class cost $150, but ended up being a net gain for fans. They got two Wusthof knives, a beer glass, and hand creams in a gift bag worth more than $210, not to mention the singular experience of seeing an NFL athlete with a troubled but evolving relationship with the public negotiate cheesy grits.
"Turn the camera on," Vick said, motioning to one of several roaming cameramen. One of his handlers had just asked him what he learned about frying turkey from watching three gallons of canola oil turn meat into the crispiest pleasure. Vick was suddenly animated and alert, as if someone had just snapped him the ball.

"No more than 30 minutes [total], three minutes per pound …" he said, picking up steam as he rattled off a list of dos and don'ts.
Vick switched in and out of star mode all night, one minute standing off to the side eyeing the Steelers-Titans game on a TV set, the next commanding the room after a chef prodded him to stir something, or a fan asked him whether he had a handle on that turkey.
"The turkey's got 10 minutes," he shouted to the group. (The turkey came out of the pot a minute later.) "My man's stirring the pot but he ain't doing it like I told him to," Vick said, pointing to an ICE chef grinning at the other end of the table. "Stir the other way. Yeah, that's right."
When a chef cut into a bubbling turkey and instructed everyone to use "just the tip" of the knife, a circle of women giggled. Vick shook his head in a good-spirited, but fatherly way.
"I'm not allergic to nuts!" one woman shouted, suggestively, when pecans were introduced to a tiramisu recipe. "They're not nuts, they're pecans," he corrected her patiently.
A woman asked how he felt about selfies. "We're not really into the selfie," Vick said. She snapped one anyway. What about a groupie? "Not that either." Did he plan on besting Ben Roethlisberger's record of 12 touchdowns in two games? "I'm gonna try." What does he cook at home? "I go to Five Guys."
Vick seemed most comfortable directing traffic in the kitchen, commanding the huddle of chefs and doing a victory dance when things went the way they should. "I put all this together," he said, spearing a flank of fried turkey at a table in the back of the room. "I just needed them to execute."
Before it's here, it's on the Bloomberg Terminal.
LEARN MORE