Jay Leno Cancels Gun Show Gig
The former king of late night was set to perform for a pro-gun group based in Newtown, Conn., and later canceled.
By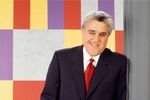 Update (Nov. 20, 2014, 6:35 a.m.): Jay Leno has canceled his appearance at the Newtown, Conn.-based National Shooting Sports Foundation's gun show, according to Mother Jones. "I understand it's Newtown, and of course I get it," he said, according to the report. "It's just sometimes, mistakes get made."
Original story: On Wednesday morning, the "Today" show ran a segment showing Jay Leno in Kentucky. He was visiting soldier, Cpl. Ethan Laberge, who had been badly wounded while on duty in Afghanistan, in an attack by a suicide bomber that killed two other soldiers. Laberge, suffered broken bones, a shattered finger, shrapnel throughout his body, and a traumatic brain injury. Leno went to visit Laberge, and the two went for a spin in a 2015 Dodge SRT Hellcat close to Laberge's base in Fort Campbell, Ky. Then they ate at Knockum Hill Bar B Que. And then Leno gave him the car. "It's yours," he said. "America loves you. Thank you buddy. Have a lot of fun." The picture of them hugging—a handsome, neatly shaved man in camouflage uniform held in a dad-like embrace, with the shirt to match, is a terrific image. Gawker Media's car blog, Jalopnik, wrote up the clip under the headline, "Watch Jay Leno Be Awesome And Give A Wounded Vet A Challenger Hellcat." On "Today," Leno explained, "We took all these wounded warriors and did sort of a lottery and reached in and picked a soldier at random [to] do something for him and hopefully it expresses what we want to do for all the soldiers." Good ol' Jay.
Just a day earlier, a number of anti-gun violence groups began attacking Leno for something else. Mother Jones reports that Leno has signed on to perform at the Shooting, Hunting, Outdoor Trade (SHOT) Show next January, which is held on behalf of the National Shooting Sports Foundation (NSSF), the trade association for the gun industry. NSSF lobbied against background checks in Congress after the mass shooting at Sandy Hook elementary school, which is in the same town where the group is headquartered.
The petition launched by the Coalition to Stop Gun Violence pleads:
Since the shooting, which claimed the lives of six adults and 20 first-grade children, the NSSF has opposed any and all attempts to strengthen U.S. gun laws to prevent future tragedies. The association has accused gun violence prevention advocates of "seeking to destroy the Second Amendment" and lobbied against even the most modest proposals, such as universal background checks for all gun sales, a reform which is supported by 92% of gun owners nationally.

Equally unsettling is the fact that the NSSF has done nothing to reach out to the families whose children were killed in the tragedy, despite the fact that the association is headquartered in Newtown. Instead, NSSF President Steve Sanetti has accused family members who have advocated for tougher gun laws of reacting "emotionally" and irrationally because they are "angry" and "fearful."
The chairman of the Newtown Action Alliance, Po Murray—whose children once attended Sandy Hook elementary—told Mother Jones, "It's a disheartening as a Newtown resident to see him make this appearance." Murray can't be the only one who feels that way.
The event, the world's largest firearms trade show, will be held in the Palazzo Ballroom, on Level 5 of The Venetian Hotel, in Las Vegas, on January 20. It'll be much more temperate there than it will be in Connecticut. Tickets are $115 for members, $135 for nonmembers. The SHOT Show website boasts about its entertainer: "Most people are familiar with Leno's everyman style ... His down-to-earth persona and topical humor have helped make him one of the most recognizable personalities in the business. His comedy touches on topics for audiences of all ages."
Leno's appearance is certainly touching one group already. Moms Demand Action For Gun Sense in America has launched a social media campaign against Leno: "Dear @JayLeno: There's no comedy in over 31k Americans dying per year from gun violence. Sincerely, @MomsDemand #JokesOnLeno."