J&J Seeks Billions in Trial Over Decade-Old Bidding War
Bob Van Voris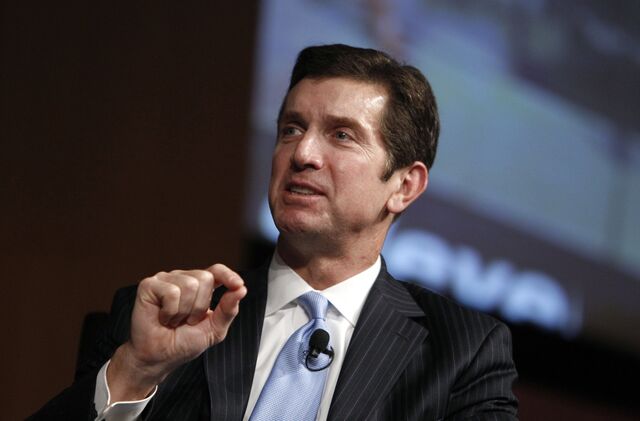 Johnson & Johnson asked a federal judge to award it $7.2 billion over its failed decade-old effort to acquire heart device-maker Guidant Corp.
J&J claims Boston Scientific Corp. owes it that amount, in damages and interest, for a broken contract in a case that went to trial today in Manhattan federal court. J&J alleges that Guidant violated their merger agreement to pursue a more lucrative offer by Boston Scientific.
"What J&J is trying to do here is hold Guidant accountable for its willful breach," Harold Weinberger, J&J's lead attorney, said in his opening statement.
The suit threatens Boston Scientific, which has a market capitalization of $17.1 billion, with additional costs tied to an acquisition that has been called one of the worst in history. The company, which took on $10 billion in debt to buy Guidant, wrote down $2.7 billion tied to the deal in 2008. Boston Scientific shares have lost 40 percent since it took over the device-maker.
J&J's damages from the failed transaction are $4.35 billion plus interest, for a total of $7.2 billion, Weinberger told U.S. District Judge Richard Sullivan, who is hearing the trial without a jury.
Better Off
William Ohlemeyer, a lawyer for Guidant, argued that the company didn't violate the agreement with J&J and that the world's biggest seller of health-care products is better off without Guidant. The deal "would have resulted in a multibillion-dollar loss for J&J," he told Sullivan.
The first witness, former J&J chief executive officer William Weldon, testified that he didn't believe his company came out ahead by losing the acquisition opportunity.
"I think that if J&J had acquired Guidant at the price we offered, it would have been a substantial asset to J&J," he said.
Negotiations that started in 2004 led to a merger agreement in which J&J agreed to pay $63 a share, or about $21.5 billion, for Guidant. Boston Scientific then made an unsolicited offer for $72 a share, or $25 billion.
Bidding War
Boston Scientific eventually won the bidding war, buying Guidant for $27.5 billion, with Guidant paying J&J a $705 million termination fee. Boston Scientific also sold Guidant's heart stent business to Abbott Laboratories to avoid antitrust issues the merger would otherwise have caused.
J&J sued in September 2006, claiming Guidant, based in Marlborough, Massachusetts, broke their merger agreement by disclosing confidential business information to Abbott.
Abbott and Boston Scientific were also accused by J&J of improperly interfering with its deal with Guidant. The following year, a federal judge in Manhattan dismissed Abbott from the case and narrowed J&J's claims to a breach-of-contract dispute.
Trial Team
J&J's trial team includes John P. "Sean" Coffey, who won $6.15 billion in settlements on behalf of WorldCom Inc. investors in 2004 and 2005. Last year he represented former Goldman Sachs Group Inc. trader Fabrice Tourre in an unsuccessful defense of civil claims by the U.S. Securities and Exchange Commission over his part in a failed $1 billion investment.
David Boies, who sued Microsoft Corp. on behalf of the U.S. Justice Department and represented Al Gore in litigation over the 2000 presidential election, leads Guidant's legal team. Boies is currently pressing Maurice "Hank" Greenberg's claim for $25 billion over the government's 2008 bailout of American International Group Inc.
The case is scheduled to run through Nov. 25, then resume Dec. 15.
Ernie Knewitz, a spokesman for New Brunswick, New Jersey-based J&J, and Kelly Leadem, a spokeswoman for Boston Scientific, declined to comment on the trial.
The case is Johnson & Johnson v. Guidant Corp., 06-cv-07685, U.S. District Court, Southern District of New York (Manhattan).
Before it's here, it's on the Bloomberg Terminal.
LEARN MORE