politics
Here's What Joe Biden, Birthday Boy, Says About Running for President
The 2016 long shot is turning 72.
By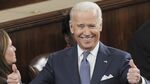 Thursday is Vice President Joe Biden's 72nd birthday, meaning he'll be 74 when the next president of the United States is sworn into office.
Much of the political world is at best skeptical of a potential presidential bid by Biden, and his age is one reason. A recent story by the New Yorker's Ryan Lizza on potential Democratic challengers to Hillary Clinton didn't even mention him. But doubters seldom stop Biden, and he even joked about his age on Thursday as he addressed the Global Entrepreneurship Summit in Marrakech, Morocco. 
"I am getting to the age where I don't look forward to my birthdays," he said to applause.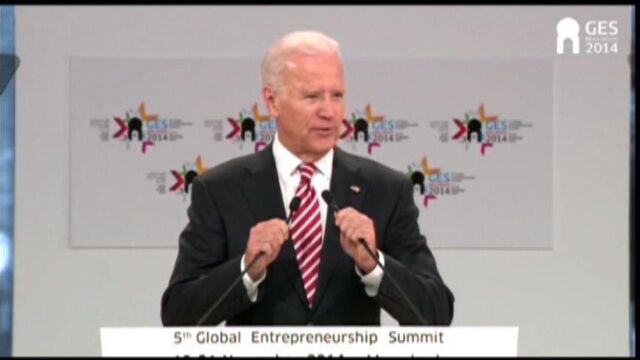 (For the record, the oldest president to assume office was Ronald Reagan, who was about to turn 70 at his first inauguration.)
In honor of Biden's birthday, and looking ahead to what the next few years might bring, here are the best quotes from Biden and others on his presidential ambitions. 
"I think Joe would be a superb president."
—President Barack Obama in an interview with the New Yorker's Evan Osnos, published in July 2014.
After singing his praises, the president added that the only question for Biden, and Clinton, is whether they want to go through the whole process again. "You have to have that fire in the belly, which is a question that only Joe can answer himself," Obama said.   
"My mother believed and my father believed that if I wanted to be president of the United States, I could be. I could be vice president."
—Biden at a campaign event in Youngstown, Ohio, in May 2012. 
The awkwardness of that quote, of course, pales to what Biden jokingly said last month to the vice president of Harvard University's student body: "Isn't that a bitch … the vice president thing." 
"I've twice been a presidential candidate, and I hope you do better than I did." 
—Biden in April 2014, speaking to then-Ukranian presidential candidate Petro Poroshenko, who won.
"Biden is Ridin' High: Approval Ratings of 200%"
Last May, Biden appeared with Julia Louis-Dreyfus, the fictional vice president-turned-president in HBO's Veep, in a skit for the White House Correspondents Association dinner. The two bounce around the White House and get matching "45" tattoos. In one scene, the two write headlines for major newspapers about how awesome Biden is, including "Biden Is Ridin' High."
"The judgment I'll make is, first of all, am I still as full of as much energy as I have now—do I feel this?"
—Biden in an story by GQ's Jeanne Marie Laskas, published in July 2013.
The story focused on why someone with such an impressive foreign policy resume and an understanding of politics struggles so much to be taken seriously as a presidential candidate. While several commenters have said Biden will run if Clinton doesn't, he has his own conditions: first, whether he has the energy. "Number two," he said, "do I think I'm the best person in the position to move the ball? And, you know, we'll see where the hell I am."
"I think I'm qualified by the record I have demonstrated over the years, by the experience I have, by the significant knowledge I have of not only foreign policy but individual leaders in foreign countries and domestically as well."
—Biden in a story by Glenn Thrush published in Politico Magazine's March/April 2014 edition, talking about why he's qualified for the job.
"I can die a happy man not being president."
—Biden in the July 2014 New Yorker story.
A year earlier he said the same thing to GQ, but added, "It doesn't mean I won't run." 
Honorary mention: "I'd rather be at home making love to my wife while my children are asleep."
—Biden in 2006—before his unsuccessful 2008 run, and well before the 2016 talk began in earnest—speaking to supporters at his leadership PAC about his interest in running, according to The Hill.
Before it's here, it's on the Bloomberg Terminal.
LEARN MORE