French Muddle in EDF CEO Succession Shows How Not to Do It
Tara Patel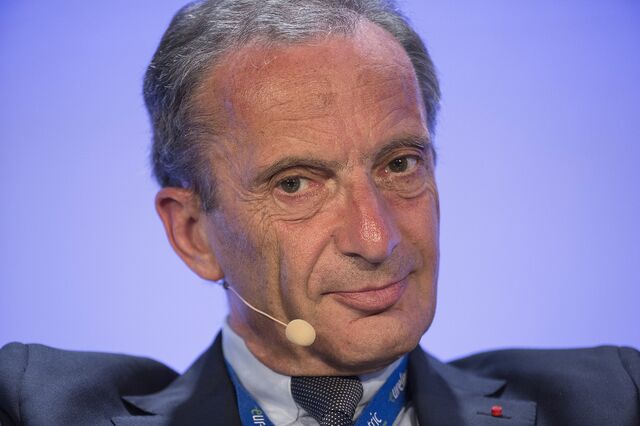 In many ways President Francois Hollande's ouster of Henri Proglio as chief executive officer of Electricite de France SA was in the cards 2 ½ years ago.
Proglio's apparent closeness to Hollande's rival and former French President Nicolas Sarkozy made it likely his term would not be renewed when it expired. Yet by leaving investors in the world's largest nuclear operator and Proglio himself guessing until the last moment, the French state disregarded corporate best practices, business leaders say.
"Uncertainty and last-minute decisions can destabilize a company," said Jean-Paul Bailly, former CEO of La Poste and Paris subway operator RATP. "In France the process is made more complicated when the state is involved."
The debate on will-he-won't-he be retained dragged on until Oct. 15 when Proglio's mandate -- and those of most of EDF's board members -- was about to run out. As Proglio successor Jean-Bernard Levy's nomination is voted on at EDF's shareholders' meeting tomorrow, and as several of France's largest companies -- from Areva SA to Sanofi -- are in the process of making changes at the top, the country's succession procedures are drawing unprecedented scrutiny.
Bailly led publication last month by the French Institute of Directors, or IFA, on best practices for corporate governance and human resources. The organization, whose members include 3,200 board members in more than 4,000 companies, recommends management succession plans be examined at least annually by board committees and that boards be informed of the work.
"Some companies prepare very well, but there is room for improvement overall," Bailly said.
Corporate Disarray
In the last few weeks, drugmaker Sanofi's CEO Chris Viehbacher was ousted by the company's board; nuclear reactor builder Areva's CEO Luc Oursel made a surprise announcement that he would step down because of a serious illness and Total SA's Christophe de Margerie died in a plane crash in Moscow.
While Total had a succession plan in place and named his replacement within a day and a half, the other companies have yet to announce new chiefs.
Levy, 59, the CEO of defense electronics company Thales SA and former head of media giant Vivendi SA, was unexpectedly named to lead EDF, one of the crown jewels of French industry, controlled by the state, which holds an 84.5 percent stake. Thales is now looking to replace Levy.
"Public and private shareholders should make decisions that don't hurt the companies," said Didier Gladieu, a representative at Thales of the CFDT union, which criticized the state for moving Levy after less than two years at the company. "Both left and right governments have been guilty of not always doing what is in the interest of companies when naming CEOs."
'Political Considerations'
The last-minute nature of the CEO decision at EDF is typical of how the government manages succession within the galaxy of 13 listed companies in which it has direct holdings, according to Pascal Bernachon, portfolio manager at KBL Richelieu in Paris.
"It's clear that the state has always been a poor and not very reactive shareholder," he said by telephone. "Political considerations" played a part in Proglio's replacement.
Proglio, 65, headed EDF since November 2009. The utility's 58 French reactors provide more than three-quarters of the nation's electricity, a higher proportion than in any other country. Under him, EDF extricated itself from a nuclear deal in the U.S., reached an accord to develop an atomic plant in the U.K., resolved a financing deficit for renewable energy and embarked on a plan for aging French reactors. It has also pushed ahead with developing new reactors in France and China.
Case Study
The succession at EDF is a case study in what not to do, according to people close to the deliberations who declined to be named because they were confidential.
Speculation Proglio would be replaced began with Hollande's May, 2012 election after now-Prime Minister Manuel Valls publically criticized the CEO during the campaign.
Hollande's Socialist Party said he sided with Sarkozy on the debate about France's reliance on atomic power, which Hollande has pledged to reduce. Proglio was also never able to shake off an association with Sarkozy, immortalized by a photo of just a handful of people at the former president's 2007 victory celebration at a restaurant on the Champs-Elysees.
While the writing may have been on the wall for Proglio, succession was never mentioned during EDF board meetings and Proglio was finally told he would be replaced just hours before the decision was discussed at a weekly cabinet meeting, according to people familiar with the process. This was done with little time to organize a required shareholders' meeting.
Greater Attention
The state has pledged to do better. A four-page outline of the government's strategy as a shareholder says it will pay "particular attention" to quality of top management and succession, according to the website of the Agence des Participations de l'Etat, which oversees the holdings.
The government is also in the process of filling a leadership void at Areva, which has declined to confirm media reports about who will be named. Additionally, the state delayed the appointment until last month of a designated GDF Suez successor to CEO Gerard Mestrallet, leading to an internal struggle, according to people familiar with the process at the utility, which has government representatives on its board.
Other companies in transition haven't fared much better.
Sanofi Chairman Serge Weinberg has yet to announce a replacement for Viehbacher. Publicis Groupe SA CEO Maurice Levy, 72, said he will step down after 2016 while naming no successor to head the world's third-largest ad company.
No Guarantees
Among France's CAC 40 companies, "there is a realization of how important it is to work on this issue," Bailly said.
Total is being held up as exemplary. When directors gathered for it board meeting Oct. 22 to replace de Margerie, the mood was grim but the task was easy.
Thierry Desmarest, honorary chairman, had to choose a new CEO among the two candidates de Margerie had lined up almost three years earlier: Patrick Pouyanne, head of refining and chemicals, and Philippe Boisseau, head of supply and marketing. He picked Pouyanne, 51.
"Research shows that companies with sound succession plans tend to do better," David Larcker, director of the Corporate Governance Research Initiative at the Stanford Graduate School of Business, said in a report published this year on executive succession planning.
It may, however, not be a sufficient condition for success.
Another report by Larcker yesterday notes that among a sample of CEOs handpicked by their predecessors at Fortune 250 companies between 2000 and 2011 almost 80 percent underperformed the S&P 500 Index during their tenure.
That's a "reason for caution before abdicating the selection decision to the CEO," he said.
Before it's here, it's on the Bloomberg Terminal.
LEARN MORE