Encana Doubling Texas Rigs Unswayed by Oil Drop
Rebecca Penty and Susan Warren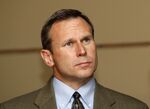 Facing a 30 percent slide in the price of crude in the past five months, Encana Corp. Chief Executive Officer Doug Suttles still has his foot on the accelerator.
The gas giant capped a year of asset sales and purchases worth more than $14 billion to focus more on crude, just as oil fell into a slump. Suttles remains confident in the shift and plans to expand drilling to capitalize on properties that promise higher returns, even after crude prices declined from a high in June of about $107 a barrel to around $75.
"We're looking at this as an environment to accelerate, not to slow down," Suttles, a third-generation West Texas oil man, said in a Nov. 17 interview at his Calgary office. Suttles said he reassured employees in a meeting last week that the oil price decline is "annoying, but it's not threatening."
Suttles, 54, who took over Encana in June 2013, has cut head count by 25 percent and sold lower-margin gas properties to snap up drilling acreage that will still be profitable if prices drop to $50. The makeover better positions the Calgary-based company for a bear market in oil, he said. Encana brought in 50 percent more cash in the third quarter than last year with 8 percent less output.
Execution Time
As some competitors reduce spending plans for 2015, Encana plans to ramp up activity as it doubles the number of rigs targeting oil in Texas's Permian basin, where it closed a $5.93 billion deal to buy Athlon Energy Inc. last week. The company's spending won't exceed cash coming in and Encana may moderate drilling if oil prices plunge further, Suttles said.
After all the deals, Suttles is under pressure from investors to boost profits from drilling.
"Operational integration and performance now move into sharper focus," Greg Pardy, an analyst at RBC Capital Markets in Toronto, said in a Nov. 13 note. "Encana's next item of business is organic growth execution at an appropriate pace."
Oil's crash deflated the company's 39 percent stock gain this year through June 17. At yesterday's close in Toronto, Encana was up 5.4 percent from the start of the year, compared with the Standard & Poor's/TSX Energy Sector Index that's little changed and a 24 percent drop in the price of benchmark West Texas Intermediate crude. The stock rose 1.9 percent to close at C$20.59 in Toronto today.
Shale Formations
A year after Suttles laid out a strategy to see Encana through 2017, he said it's a good thing the company is 24 months ahead of schedule in lifting its oil and natural gas liquids output. Suttles is rebalancing the company on his expectations that vast supplies of gas from shale formations across the continent will keep a lid on prices.
Encana, long known as Canada's largest gas producer, moved into second this year after Canadian Natural Resources Ltd. After swapping gas properties for oil fields, gas now makes up two-thirds of Encana's output, compared with 90 percent a year ago.
"If we hadn't have done that, we'd be in a lot worse shape," Suttles said. "Oil prices at $75 are still a lot better than gas prices at $4." WTI crude for January delivery rose 1.8 percent to $75.85 a barrel in New York today, while gas gained 2.7 percent to $4.489 per million British thermal units.
Eighty percent of Encana's capital in 2015 will be focused on increasing output from shale regions including the Montney and Duvernay in Canada and the Eagle Ford and Permian in the U.S., he said. The company's liquids regions provide returns with oil prices of $35 to $50 a barrel, he said.
'Terrible Time'
Encana announced a deal to buy Fort Worth, Texas-based Athlon for $58.50 a share in late September, a "reasonable price" according to RBC, and oil steepened its decline by another $20 a barrel over the next seven weeks.
"We actually don't believe you can time these things," Suttles said. "No one saw the price fall."
Regardless of whether Encana is producing more oil from attractive lands, crude's price collapse comes at a "terrible" time as Suttles's turnaround story switches from deal-making to delivering profitable growth, said John Stephenson, CEO and co-founder of Stephenson & Co. in Toronto, who manages about C$50 million ($44 million), including Encana shares.
"Production will be weak and the market will be disappointed and the stock will be soft," Stephenson said, adding Encana should sell more assets to lower its debt. "Losing 30 percent of your cash flow overnight is definitely going to impact you."
Deep Panuke
While asset purchases and sales are no longer a focus for Encana, there may be opportunities for it to buy parcels of land to expand in regions it's trying to grow, Suttles said.
It's not clear there's a buyer for Encana's Deep Panuke development offshore Canada's East Coast, one asset that's not a natural fit for an onshore continental producer, he said. The fact that prices for Deep Panuke's gas are tied to fluctuations in the weather also limits appetite for the asset, he said.
Encana isn't among companies that will be forced to sell assets amid oil's downturn, Suttles said.
"Our repositioning of the portfolio has gotten us in a strong place," he said. "We aren't threatened by this."
(A previous version of this story was corrected to remove reference to Penn West Petroleum in fifth paragraph.)
Before it's here, it's on the Bloomberg Terminal.
LEARN MORE