Deflation Curve Shows Polish Price Risk as ECB Boosts QE
Maciej Onoszko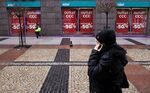 Polish bonds are showing investors see little likelihood of rising consumer prices at home as concern builds the euro region is exporting deflationary pressures.
The yield premium of 10-year zloty bonds over two-year notes narrowed to the least in 16 months this week, with the spread over German bunds near a six-year low, amid record Polish deflation. The European Central Bank must drive inflation higher quickly, and will broaden its asset-purchase program if needed to achieve that, ECB President Mario Draghi said today.
"The re-pricing in Polish bonds comes in line with what's happening in the European environment," Viktor Szabo, who helps oversee $13 billion in emerging-market debt at Aberdeen Asset Management Plc in London, said by e-mail yesterday. "The ECB's quantitative easing and local deflation are the key reasons" for the flattening of Poland's yield curve, he said.
Investors are signaling there's scope for the Polish central bank to cut interest rates after four months of price declines triggered partly by sluggish growth in the euro region, which buys more than half of Polish exports. Market inflation expectations show consumer-price growth averaging 1.1 percent over the next nine years, data compiled by Bloomberg show.
Dropping Prices
Consumer prices dropped 0.6 percent in October from a year earlier, the biggest deflation since the Statistical Office started compiling similar data in the early 1980s. Euro-area inflation rose to 0.4 percent from last year in October after dropping to a five-year low 0.3 percent in September.
Draghi said in Frankfurt today that the bank must "raise inflation and inflation expectations as fast as possible." He has declined to rule out buying government bonds and said after this month's monetary policy meeting that staff have been told to study further measures to boost the economy if needed.
"Draghi may expand stimulus further in December and some of that money will appear in Poland too," supporting five- and 10-year zloty bonds, Arkadiusz Urbanski, a fixed-income analyst Bank Pekao SA in Warsaw, said by phone yesterday. "But yields on two-year notes have little chance of declining further."
Polish central bank Governor Marek Belka's policy panel rejected motions to reduce rates by 25 basis points, 50 basis points and 100 basis points at its Nov. 5 meeting, according to minutes published yesterday. Most policy makers said Poland's economic slowdown was "temporary and moderate," while prices were driven by factors unaffected by monetary policy, the minutes show. The panel kept the benchmark at 2 percent at the meeting.
Forward-rate agreements show trader bets on less than a quarter point of easing over the next three months, compared with more than a half a point expected as recently as Oct. 8.
Growth 'Fears'
The yield on Poland's two-year zloty bonds fell nine basis points to 1.75 percent, while the yield on 10-year bond dropping as much to record 2.49 percent. This leaves the spread between the two at 74 basis points, three basis points above an 18-month low reached on Nov. 18.
Manufacturing and services in the euro area unexpectedly fell this month, while a flash purchasing managers' index for China slid to 50, the borderline between expansion and contraction. U.S. Federal Reserve minutes released two days ago showed some policy makers concerned prices in the U.S. economy aren't rising fast enough, while the Bank of Japan maintained record stimulus after the economy slipped into recession.
"Fears over global growth" have pushed down yields on longer-maturity Polish bonds, Ernest Pytlarczyk, the chief economist at MBank SA in Warsaw, said by e-mail yesterday. With short-term notes affected by the Polish central bank's stable-rates policy, the yield curve has flattened.
Before it's here, it's on the Bloomberg Terminal.
LEARN MORE