CGG May Want to Reconsider Technip's Offer: Real M&A
Tara Lachapelle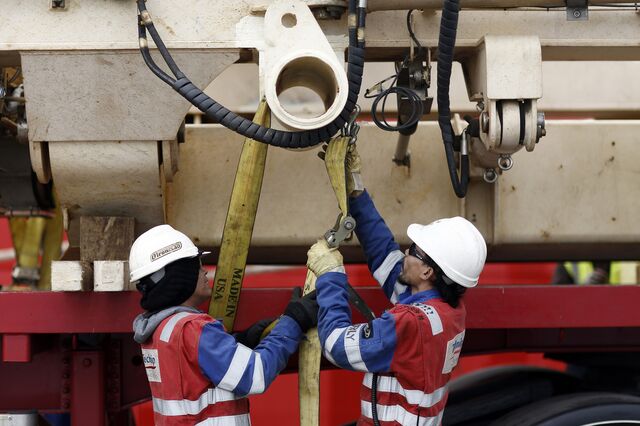 France's CGG SA, the struggling oilfield-services company that rejected a bid for $1.8 billion, may want to reconsider.
Technip SA, also French, this week proposed buying the seismic surveyor for 8.30 euros a share, almost 50 percent higher than CGG's average price in the previous 20 trading sessions. CGG has slumped this year as it continues losing money and burning through cash, and analysts were projecting that it'd take a year just for the stock to get back up near 7 euros. The offer would give its shareholders a chance for a quicker and more attractive exit.
Even though CGG said the conditions to pursue a transaction with Technip weren't met, investors are betting the deal will still get done and that price isn't the issue. Data acquisition, one of CGG's three main businesses, has been dragging down the company. Negotiations with Technip may come down to the fate of that unit and its employees, given that Technip wants to eventually separate it out.
"CGG is saying the conditions haven't been met, but they're not saying 'We're unwilling to talk,'" said Alex Brooks, a London-based analyst at Canaccord Genuity Corp. "I don't think this is primarily a price-driven discussion. The overwhelming majority of shareholders would probably say yes almost immediately to 8.30 euros a share. The question is whether they can get the board and employee representatives on that board to agree to the proposal."
Government Interest
The French state, which has stakes in both, may also help facilitate an agreement between the companies. The government is pushing for a combination, according to a person familiar with the matter.
Oil explorers such as Total SA use CGG's technology to make seismic studies of the earth's geology, including under ocean floors, to locate and estimate the size of reserves. Oil companies have been reining in spending, though, amid a supply glut, which has made CGG's stock volatile in recent months. The company renegotiated debt terms and cut its fleet and workforce this year.
Crude prices have also plunged in the past month, which is encouraging takeovers in the industry as valuations turn cheap. Just this week, Halliburton Co. agreed to buy Baker Hughes Inc. for $35 billion, bringing together the world's second- and third-largest oil-services providers. Siemens AG is buying Dresser-Rand Group Inc. in a $7.5 billion deal to expand its business with oil-and-gas equipment in the U.S.
Should Technip's pursuit of CGG succeed, it will be the ninth-biggest acquisition in the industry this year. The proposal values CGG at $1.8 billion, plus Technip would assume its $2.6 billion of net debt.
CGG's Paris-listed stock jumped 22 percent yesterday to
7.95 euros apiece, still 4.2 percent below Technip's proposed offer. The spread signals that investors are betting a deal will get done and that competing offers are unlikely.
Today, CGG shares fell 0.1 percent to 7.94 euros.
Before it's here, it's on the Bloomberg Terminal.
LEARN MORE