BHP CEO Says Tests on Olympic Dam Expansion Show Promise
David Stringer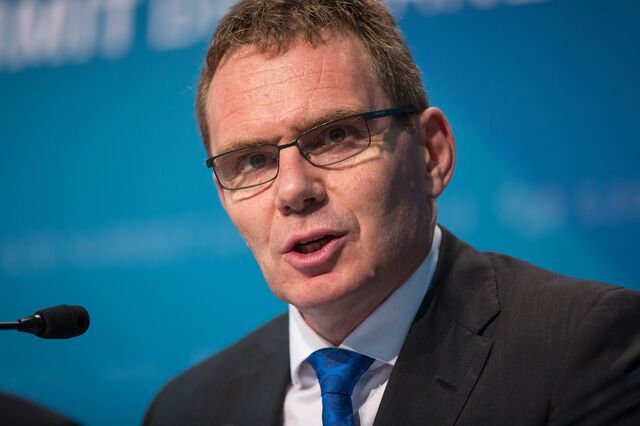 The prospects for the expansion of BHP Billiton Ltd.'s massive copper, gold and uranium mine in Australia are looking more promising after testing of new processing technology shows early signs of success.
The Olympic Dam mine in South Australia is the world's largest uranium deposit and a major copper resource. BHP is pilot testing a heap leaching extraction process used in its copper mines in Chile.
If the tests "are successful, and they are showing considerable promise, we will use this technology and phased expansions of the underground mine to further increase Olympic Dam's output," Chief Executive Officer Andrew Mackenzie said today at an shareholder meeting in Adelaide, South Australia.
The news comes as Wood Mackenzie Ltd. forecasts a lack of major new projects means copper may slide into deficit from about 2017, with 4.5 million metric tons of new production capability needed to meet demand by 2022.
In 2012, BHP halted a proposed expansion of Olympic Dam, estimated by Deutsche Bank AG to cost $33 billion. Mackenzie was addressing the first annual meeting held in the state since the decision.
Australia's Prime Minister Tony Abbott has offered to assist BHP in advancing the Olympic Dam expansion, seeking to bolster the region's economy with manufacturing scheduled to end at General Motors Co.'s Holden unit. The carmaker will cease production in 2017 after 69 years, cutting about 2,900 jobs at sites in the state and in neighboring Victoria.
Three Years
Trials of a heap leaching processing are planned to begin at the site in late 2016 for three years, the company said in July. Experiments so far are being conducted at a laboratory in Adelaide's Wingfield district.
Demand from China, the biggest metals consumer, will be supported by electricity grid expansion and greater adoption of renewable energy sources, all of which require more copper wiring, according to Citigroup Inc.
Copper demand may rise to 40 million tons a year from 27 million tons by 2030, BHP's Marketing President Mike Henry said last month. "Supply, on the other hand, is expected to remain structurally challenged," he told investors in London.
Before it's here, it's on the Bloomberg Terminal.
LEARN MORE