American Skepticism About Washington Remains High After Midterms, Poll Finds
More than three-quarters of Americans say the election won't substantially change the nation's direction.
By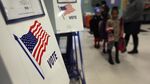 Americans remain deeply skeptical about Washington and whether this month's midterm elections will change anything, the latest NBC News/Wall Street Journal poll found.
Seventy-six percent of Americans say the nation's direction won't be significantly altered by the election and about two-thirds say the U.S. is headed in the wrong direction, according to the poll, which was released late Wednesday. They're divided between positive (41 percent) and negative (39 percent) in their reaction to Republicans completing their congressional takeover.
"While this wave election has changed the composition of Congress and added Republican governors, it has not changed the nation's psyche or their expectations," said Fred Yang of the Democratic polling firm Hart Research, according to NBC News. "It is almost like the election never happened."
Yang and the Republican polling firm Public Opinion Strategies conducted the survey.
Fifty-three percent of the poll-takers had a positive reaction to the election results—less enthusiastic than after the 2010 cycle, whose results were seen positively by 61 percent, or 1994 (69 percent).
More than half—56 percent—said they want Congress to "take the lead role in setting policy," while 33 percent said that's President Barack Obama's job. They have a strong desire for compromise, with 63 percent saying they want elected officials to be flexible instead of holding firm to their "campaign positions."
Obama's approval rating in the survey was 44 percent. That was up two percentage points from the news organizations' last survey before the election, which was among registered voters.
This poll was conducted among adults by phone Nov. 14-17 and has a margin of error of plus or minus 3.1 percentage points.