Why the Red Sox Might Overpay for Jon Lester
By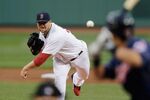 Last week in the Boston Globe, Chad Finn channeled the lurking fear of Red Sox fans everywhere by laying out the reasons why, as much as Boston would love a reunion with free-agent pitcher Jon Lester, it probably isn't going to happen. Lester will be 31 on Opening Day. He can command a contract somewhere in the six-year, $150 million range and took offense at the Red Sox's paltry offer of a 4-year, $70 million extension during spring training. Mostly, though, the belief that a reunion isn't in the offing stems from comments that the team's owner, John Henry, made when I was profiling him for Bloomberg Businessweek's Success Issue earlier this year and then again in this follow-up post in July. Here's Finn round-up of the evidence:
"In case a reminder of exactly why is required, here is a snippet of Joshua Green's July follow-up to his Bloomberg BusinessWeek article from April on Henry and his thoughts on players over 30 years old:

Henry was particularly emphatic about a study showing the costs of signing players over 30 to long-term deals. "To me," Henry told me, "the most important thing this study shows is that virtually all of the underpaid players are under 30 and virtually all the overpaid players are over 30. Yet teams continue to extravagantly overpay for players above the age of 30." I asked Henry to compare the Sox's approach to that of the New York Yankees, who spent $500 million in the [2013] off-season. "It is a wildly different approach," he said. "We haven't participated in this latest feeding frenzy of bidding up stars."

The Red Sox are not about to bid him up now. Hell, they didn't sign Lester to a new deal when they held the sole negotiating rights. Now that every other team has a shot—and more than a couple of franchises have the need, the cash, and the desire to stick it to the Red Sox—it's hard to figure he comes back here without taking a discount that would send the players association into a rage.
That's as concise and persuasive a case as there is against the belief that the Sox will sign Lester … and yet, nine months after Henry made those comments to me, I wonder if people are misreading the profile and follow-up, since something important has shifted since Henry made those remarks: the context.
 
When I spoke with him in February, Henry was fresh from winning his third World Series title in 10 years. The latest one had come after a conscious decision to reject gaudy contracts for big stars in favor of shorter ones for "middle class" players such as Mike Napoli, Shane Victorino, etc. The strategy worked! And it was kind of novel and interesting, which stoked the interest of fancy national magazine reporters, who wanted to trumpet Henry's success to their big national audience, which is the sort of heady experience that leads one to pose for magazine covers like this:

I don't doubt that Henry meant every word he said to me about the folly of signing older pitchers. He'd studied the numbers. He'd read Martin Kleinbard's paper (that's the "study" he refers to above). He knew what he was saying was right. And he didn't have to look any further than the rival Yankees and C.C. Sabathia's gimpy knees to see his rightness manifested.
All that remains true. But when Henry sits down with his brain trust to decide whether or not to resign Lester, the context in which he'll be making his decision will be vastly different than it was when he made those remarks to me. From my vantage point, this matters for two reasons (and as someone with a rooting interest in the Red Sox, I hope it matters a lot).
The first reason is economic. When I spoke with Red Sox co-owner Larry Lucchino in February about the effect of the Sox's 2013 World Series title on the team's bottom line, he revealed that season ticket sales had already jumped 12 percent from the year before. He was pretty psyched. It's a safe bet that 2014′s last-place finish sent those sales spiraling in the opposite direction. So while it's true that signing pitchers in their 30s to long-term deals rarely ends up looking wise from a dollars-for-performance standpoint, there are other reasons to do so. The Sox's last-place finish and current ghost rotation are doing zip for ticket sales. Signing Lester to lead the rotation would not only be a terrific feel-good story of a home-grown talent returning to the fold; it would re-enliven ticket sales as it re-enlivened the team's chances to compete next season.
The other reason is more subjective but also, I suspect, more compelling. It has less to do with sabermetrics and ticket sales than with the psychology of rich businessmen who've grown accustomed to success and a certain level of public renown. To a businessman-turned-owner like Henry, winning the World Series is a huge validation and ego boost. It must be even more gratifying to win a World Series with an innovative strategy like 2013's that limited the team's outlay, because everybody (including, I'd wager, Henry himself) assumed that front-office brilliance, rather than raw dollars, was the difference maker. That's where Henry's head was when I interviewed him.
Since then, he and the Sox have failed in spectacularly public fashion. It must be jarring. Bloomberg doesn't do an annual Failure Issue—imagine trying to sell ads against that one!—but if we did, he'd be a strong candidate for a cover model. After all, the Sox have finished last in two of the past three seasons.
But Henry doesn't need a magazine to tell him this. If he's anything like the ubercompetitive businessmen I routinely speak to in my line of work, he's probably dying to shed the "loser" label and return to basking in the warm glow of being a "success" as fast as he possibly can—and signing Lester, even if that means overpaying  him, gives Henry a big push in that direction. It doesn't erase last season, but it does cast some moves in a more favorable light. If Lester returns, swapping him for Yoenis Cespedes last July looks less like a questionable trade for a dodgy outfielder than a clever ploy that netted a potentially valuable trade chip. He can hold on to more of the prospects he valued so dearly in February. He can focus on winning again.
And he can justify this by reminding himself that the Red Sox aren't the As, or the Rays, or the Royals, for whom low-budget "moneyball" is the only path to winning. In Boston's case, money is an edge. The Red Sox should develop all the young players they can—and exploit their advantage by signing Lester on top of that.
P.S. Just after I hit "publish," the Boston Globe's Nick Cafardo reported that the Red Sox have offered Lester a six-year contract worth between $110 million – $120 million. This isn't an overpay and likely won't seal the deal, but I choose to interpret it optimistically as a sign that Henry, having intuited my logic, is psyching himself up to eventually go higher.
Before it's here, it's on the Bloomberg Terminal.
LEARN MORE