The Real Legacy of the Keystone XL Is Already Settled
By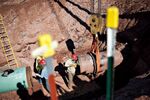 Even if the Senate had passed Mary Landreu's Keystone bill yesterday, the results would've been the same: President Obama, by all accounts, was going to veto it, and since it's his decision (because the line crosses an international border), we're probably stuck with speculation about its approval/rejection for at least two more months as he waits for the Nebraska Supreme Court to decide a lawsuit over Keystone's route, a next Keystone bill passes the Senate when Republicans take control next year—or both.
Yet while the final leg of this pipeline network remains in political limbo, the market has long since moved on. In fact, even without the Keystone XL, the amount of Canadian oil that reaches the U.S. Gulf Coast is up 83 percent over the past four years. The unbuilt Keystone XL has led to scores of other projects that are already moving crude.

When it was first proposed in 2005 and its plan submitted to the U.S. State Department for evaluation in 2008, Keystone was intended to be the main conduit for Canadian oil sands to get refined. It charted the most direct course to the U.S. Gulf Coast, 1,179 miles to the biggest refining hub in the world. Total capacity was set at 800,000 barrels per day. Its rough cost was estimated at $5 billion. Now TransCanada says it'll be more than $7 billion.
As the public's attention remained fixated on Keystone, the pipeline industry built dozens more projects to reorient itself around the U.S. shale boom. That included finishing the southern leg of the Keystone pipeline, from Oklahoma to refineries outside Houston. That was really all U.S. producers wanted in the first place, an outlet for all the oil they were pumping in the middle of the country, so it could move down to the Gulf. Instead, it was pooling in Cushing, Okla., the biggest oil storage hub in the U.S., and losing value against international oil prices. Less than two years ago, Cushing was brimming with 50 million barrels. Now, thanks to the southern leg of Keystone and other projects that have been built, Cushing's practically empty.

It's the refineries along the Gulf Coast that are really interested in getting Canadian oil. They spent billions in the mid-2000s upgrading their plants to be able to handle thicker, heavier oil from Canada. Now they want to recoup that investment. They're slowly starting to. Canadian oil that was building up around Chicago is starting to make it's way south. And more pipeline expansions are planned to begin next year. (See 2015 Year Ahead Energy map) There are also trains, which are starting to bring oil south from western Canada. Jackie Forrest, of Calgary's ARC Financial, told Bloomberg News that in 2015, Gulf Coast refineries could process more than 400,000 barrels a day of Canadian oil.
Canada isn't just waiting for the U.S. to decide whether it'll develop its own oil. There are plans to bypass the U.S. Gulf and send the oil east and west to the Canadian coasts. On Oct. 30, TransCanada submitted its application to build the Energy East pipeline, a 2,800-mile project to move oil sands all the way to refiners in Quebec. From there, the Canadian oil could make it into the northeast, or get shipped south and around to the Gulf Coast. Or it could go to Europe.
Part of the appeal of Canada's heavy oil is that it's cheap. The price that producers can fetch way up in Alberta is typically about $20 to $30 less than the price of West Texas Crude, the U.S. benchmark. Right now the price of Western Canada Select is around $58 a barrel, down from $87 in June. Those prices are dangerously close to what companies need to be able to produce the oil sands at a profit. A study last year argued the price point was around $65.
If it ever does get approved, Keystone will almost certainly get built. But it is nowhere near the prize it was when TransCanada first submitted an application for its approval.
(
A previous version of this story incorrectly reported the Energy East pipeline would deliver oil to refiners in Ontario
)
Before it's here, it's on the Bloomberg Terminal.
LEARN MORE