The Ballad of Mary Landrieu's Lost Keystone Cause
Democrats fail to deliver that final vote Landrieu really, really needed on the Keystone pipeline.
Annie Linskey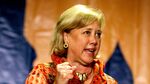 The Democratic cavalry didn't show up for Mary Landrieu. Again.
In her mostly symbolic effort to pass legislation approving the Keystone XL pipeline on Tuesday, the Louisiana senator came up one vote short. The failed effort was yet another example of Landrieu's party turning its back on her faltering re-election bid.
For much of the day, she'd called and e-mailed aides and colleagues searching for that one elusive "yes" vote. But even while leaning on senators defeated in the midterm elections or those retiring and back in town for the lame-duck session with nothing left to lose, Landrieu still couldn't muster the 60th vote needed to clear the way for passage of a bill that White House aides said would have been vetoed. The final tally on her Keystone campaign: 59 votes for, and 41 votes against.
Landrieu had hoped the vote would prove to Louisiana voters that her clout and seniority still matters in Washington. Instead it showed the opposite: Her Democratic colleagues risked no political capital of their own to bail her out, and her Republican opponent, Representative Bill Cassidy, wasted no time rubbing it in. "It is clear Landrieu is unable to stand up for Louisiana effectively," he tweeted shortly after the vote. Cassidy's leading Landrieu by 16 percentage points, according to a recent poll conducted by Magellan Strategies.
The lack of Democratic support has become a trend for Landrieu, who is facing a Dec. 6 run-off election after neither she nor Cassidy received more than 50 percent of the vote on Election Day. Seeing little reason to spend more cash in what it deemed a lost cause, the Democratic Senatorial Campaign Committee, whose party lost control of the chamber in the midterms, pulled ad buys two days after the balloting ended on Nov. 4. Deep-pocketed Democratic outside organizations such as Emily's List and the NexGen Climate super-PAC haven't helped Landrieu because of her opposition to their pet issues. That has left her vastly outgunned by Republican groups falling over one another to help Cassidy. 
As her Keystone crusade went down to defeat, Landrieu betrayed no emotion while standing on the Senate floor. The three-term senator barely reacted as one protester in a gallery began whooping and others chanted "NO KXL." Her colleagues offered some comfort. Senator Kay Hagan of North Carolina—one of the crew of defeated Democratic senators who voted with Landrieu—embraced her on the floor. 
"She's a fighter and we admire her," said Senator Debbie Stabenow of Michigan, in a brief interview before she voted against the pipeline. "She's working very hard." That was also the assessment of Senator Barbara Mikulski of Maryland, who'd talked with Landrieu in the morning to convey support, according to a Democratic Senate aide. Alas, when the votes were called, Mikulski was also a no. Three Democrats who are retiring from the Senate and one who'd already lost his seat aligned themselves against Landrieu, a dose of friendly fire that ratcheted up the odds that she'll be among their ranks soon.
Republicans sought to cast the entire Keystone effort as a naked ploy to save her seat. The vote was "too little, too late, and way too political," said Mary Matalin, a native of the Bayou State and former adviser to Vice President Dick Cheney. "Landrieu should have demanded the vote months, years ago."
Those politics bled onto the Senate floor, where members generally pride themselves on their comity. "How convenient that we now finally have an opportunity to at least vote on this bill just before an election in Louisiana," said Republican Senator Pat Roberts of Kansas, who barely survived his own re-election. "If this bill passes today, will the president sign it into law, or will the president simply continue to straddle the pipeline until after the runoff election in Louisiana? Seems to me the president owes an answer."
Landrieu requested two extra minutes of time and used it to shoot back at Roberts, saying she was "very disappointed" with his remarks and accusing him of tainting the honor of the Marine Corps, in which Roberts served, with his comments. Then she rebutted his question of why this vote was happening now with an answer that pointed more to politics than policy. "Neither leader could get their caucuses in a position to have this debate and there are many reasons for it," she said. "But those reasons cleared up after this election, and that's why we're having this debate."
On Tuesday, she spent much of the morning on the Senate floor, a safety zone from the prying news media even as the C-SPAN cameras beamed out the unfiltered images of her hard labors. But as lunch approached, she rushed to a Senate Democratic lunch in a nearby room. She moved so fast that one photographer stuck her foot inside the threshold to the lunchroom to prevent the door from shutting before she could take a picture. Landrieu exited via a back door, eluding reporters intent on quizzing her about the vote total.
The senator, who has built a reputation for her resiliency during trench warfare, took a moment to take questions after the fight was over. "For jobs, for economic opportunity, for independence, for energy independence, this fight was worth having," she said. And she still held out hope that Democrats would embrace her. She invited supporters to a fundraiser at La Loma, near the U.S. Capitol, to raise money for her campaign, according to an invitation obtained by Bloomberg Politics. The fees were between $500 to a $1,000 a person to attend what was billed as a "happy hour."
Julie Bykowicz contributed to this report.
CORRECTION: An earlier version of this story misstated the day of the Keystone vote.