pursuits
Pizza Hut Tries Flavor Drizzles, Crust Gimmicks, and a New Yorker as CEO
By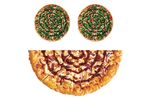 Putting an authentic New Yorker in charge of Texas-based Pizza Hut would seem like a recipe for pizza traditionalism. After all, the city with more than 1,600 pizzerias has been getting along just fine without buffalo sauce drizzles or flavored crusts. "If you live in New York, you've been eating pizza your whole life," says David Gibbs, the current president of Pizza Hut who will take over next year for retiring Chief Executive Scott Bergen.
But the transformed pizza chain Gibbs will inherit isn't trying to simplify anything. As Pizza Hut tries to differentiate itself from Domino's and Papa John's, Gibbs has promised to start "radically reinventing the pizza category." Yum Brands is handing Gibbs control in the middle of what the parent company touts as its "biggest brand evolution ever," a revamp that comes after eight quarters of declining same-store sales in the U.S.
The new era starts today, Nov. 19, with the rebranding of some 6,300 Pizza Hut location across the country, all of which will get an all-new menu, a website designed to invoke cast iron, new-look uniforms, and a logo inspired by the look of tomato sauce on stretched dough. Even the pizza boxes are getting a makeover.
Pizza Hut crusts now come in such unconventional flavors as honey sriracha, salted pretzel, and something called Ginger Boom Boom, a mix of ginger, garlic, black pepper, and paprika. The pizza sauce can be honey sriracha or buffalo—or a hypnotic swirl of these and other sauces can be drizzled over the top. (Classic offerings, such as the Meat Lover's Pizza, will still be available.)
It all sounds quite trendy—the new menu is called Flavor of Now—and even vaguely artisanal, in a Pizza Hut way. A lot of the new stuff isn't what you'd expect from a 56-year-old pizza chain founded in Kansas. The focus now seems to be on bold flavors—something that Pizza Hut's Mexican drive-thru sibling, Taco Bell, has emphasized on its menu, with impressive results of late. With Taco Bell Chief Executive Greg Creed taking over as CEO of Yum in January, it wouldn't be surprising to see more shared marketing cues between the chains.
"These are flavors that you couldn't get in the pizza category before," Gibbs told Bloomberg Businessweek in an interview. The Flavor of Now menu, which includes a Get Curried Away pizza crust for the launch, may rotate based on what Pizza Hut thinks is catching on with diners. "It's our job to be introducing new flavors."
Pizza Hut likes to hype the 2 billion possible ingredient combinations now available, and Gibbs used the phrase "create their own flavor adventure" to describe what he wants customers to do. The chain will also expand its pizza-by-the-slice experiment, but Gibbs doesn't want to force a New Yorker's love of slices onto his company. "We're all about bringing America and the world exactly what they want," he says. So far, that appears to mean crusts stuffed with anything from cheese to burgers and toppings such as squid and wasabi mayonnaise. "Nothing's off limits," Gibbs promises, "if the consumer wants it."
Even the dream of pizza for breakfast is on the table for consideration. "Those are all the kinds of things we'll always be looking at," Gibbs says, "and when America's ready for that, we'll be the first to have it."
Before it's here, it's on the Bloomberg Terminal.
LEARN MORE