Obama Said to Include Tech Visas Expansion in Immigration Plan
Mike Dorning and Peter Burrows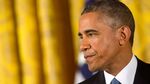 President Barack Obama will let more foreign graduates of U.S. colleges with scientific and engineering backgrounds temporarily work in the country, partially addressing technology industry leaders' desire for more skilled employees.
Obama will expand a program that now allows foreign graduates in science, technology, engineering and math fields to work in the U.S. for up to 29 months, said a person familiar with the White House plan.
The expansion is among executive actions Obama plans to take as soon as tomorrow. Technology executives have focused their lobbying on raising the number of longer-term visas for skilled workers, a provision that is included in immigration legislation stalled in the House.
"Speak to anyone in Silicon Valley, and they will tell you there's a talent shortage," said Vivek Wadhwa, a fellow at the Rock Center for Corporate Governance at Stanford University in California. "Silicon Valley is starved for talent."
Between 100,000 and 200,000 people are working in the U.S. under the temporary Optional Training Program that Obama plans to expand, according to Wadhwa. That compares to about 750,000 on the long-term H-1B visa program that the legislation stalled in Congress would increase.
The person familiar with Obama's plans declined to provide details on the scale or terms of the visa expansion in the president latest plans.
Enlarging the temporary program "is not a solution, it's just another Band-Aid," Wadhwa said. "We're creating more of a mess with all of these people who are in this limbo state."
Kim Berry, president of the Programmers Guild, an activist group that opposes laws that allow tech companies to employ cheaper foreign workers, said the expansion would hurt job prospects of native-born students receiving technical degrees.
Even new graduates from the best schools have a tough time finding jobs, since there are only so many entry-level positions, Berry said.
Unlike the H-1B visa program, companies aren't required to pay prevailing industry wages to foreign workers employed through the temporary training program.