Mawae, Seau Among Pro Football Hall of Fame Semifinalists
Erik Matuszewski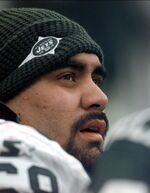 Former New York Jets offensive lineman Kevin Mawae is among 26 modern-era semifinalists for the Pro Football Hall of Fame's Class of 2015.
Mawae, an eight-time Pro Bowl selection and former president of the National Football League Players Association, is one of eight first-year nominees selected as semifinalists. Others chosen from the initial list of 113 nominees are quarterback Kurt Warner, receivers Isaac Bruce and Torry Holt, running back Edgerrin James, offensive lineman Orlando Pace, linebacker Junior Seau and cornerback Ty Law.
The other semifinalists are kicker Morten Andersen; running backs Jerome Bettis, Roger Craig and Terrell Davis; wide receivers Tim Brown and Marvin Harrison; coaches Don Coryell, Tony Dungy and Jimmy Johnson; defensive end Charles Haley; linebackers Kevin Greene and Karl Mecklenburg; safeties Steve Atwater, John Lynch and Darren Woodson; and offensive linemen Joe Jacoby, Mike Kenn and Will Shields.
The Hall of Fame's selection committee will cut the list to 15 finalists in early January. The 2015 class of between four and eight new members will be revealed on Jan. 31, 2015, the day before the Super Bowl in Arizona.
There were seven members in this year's class, including former New York Giants defensive end Michael Strahan and former Oakland Raiders punter Ray Guy, who became the first player at that position voted into the shrine.
Players have to be retired from the NFL for five seasons before becoming eligible for the Hall of Fame.
Before it's here, it's on the Bloomberg Terminal.
LEARN MORE