Let the 2016 Republican Primary Begin
It's all very friendly, for now, but no one is making promises that it won't get messy later.
By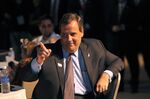 It's almost impossible to walk the halls of the Florida seaside resort where the Republican Governors Association is holding its annual conference and not bump into a prospective 2016 presidential candidate. Of 25 sitting governors gathered in Boca Raton Wednesday, at least six are considering runs for president. Do the math. That's about 1 in 4. 

Start with RGA Chairman Chris Christie of New Jersey, who's taking a victory lap for an election night that boosted his party's gubernatorial ranks by two, to 31, a 16-year high for either party. Add Wisconsin's Scott Walker, who, after beating a recall attempt, went on to win re-election despite aggressive campaigns by unions to unseat him. He's now officially battle-tested, the party's Iron Man. Louisiana's Bobby Jindal, Texas' Rick Perry, Ohio's John Kasich and Indiana's Mike Pence also have constituencies. All six had cameos on Wednesday, when Christie and Pence led off an opening news conference and Walker, Jindal, Perry, Kasich and Pence wove nuanced stances on immigration, Medicaid, and education during an afternoon panel moderated by NBC's "Meet the Press" host Chuck Todd.