JetBlue's Investor-Friendly Plan to Start Crunching Knees and Charging for Bags
By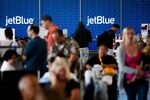 JetBlue Airways describes its daily mission in laughably lofty terms: "Inspire humanity." In practice, that makes the airline something like Southwest with live TV, free Wi-Fi, and other frills. It's also been a formula for sub-par financial results, especially as the rest of the U.S. airline industry has consolidated while boosting fares and fees.
Now JetBlue is ready to try inspiring investors instead of travelers. For the first time, the airline will introduce a checked-bag fee for a passenger's first item and squeeze 15 additional seats into its Airbus A320s. Eighteen new jets will be deferred until at least 2022, a decision that will curb growth while probably bolstering return on invested capital.
Overall, JetBlue expects to reap $450 million in additional income by 2018 from the initiatives the company outlined Wednesday. These changes mirror trends that have swept the industry and were largely expected. Still, JetBlue was considered a holdout among revenue-hungry U.S. airlines, and its customer-friendly ethos drew Wall Street's wrath.
As a result of the industry's consumer cruelty, however, JetBlue executives can charge for every checked bag and reduce legroom while still credibly claiming that JetBlue's basic service remains far superior to the alternative service at legacy carriers.
"Even with the changes we're announcing today, I'm confident that our customers are going to still feel that JetBlue is offering a better experience than anyone else," incoming Chief Executive Officer Robin Hayes told analysts at an investor presentation. He will take over in February from David Barger, who is stepping down in February after 15 years at JetBlue, nearly half that tenure as CEO. In an interview, Hayes said the carrier expects "a lot of noise" around its changes but that it will remain "a better experience than you will have on any other airline."
The biggest upheaval—and the one that will be the most profitable and disliked—is a move to three categories of fares in 2015. The cheapest tier will add a fee to check a bag, akin to the low-end fares at American Airlines that also include priority boarding. The change will leave Southwest as the only U.S. carrier to offer a free first checked bag, and the airline did not hesitate to draw attention to this fact.
JetBlue did not discuss bag prices, which it will begin imposing at some point next summer; it noted only that more than half its customers do not check a bag. In the eight or so years that U.S. travelers have been acclimated to paying for a checked bag, the backlash has withered. Passengers now expect to pay, giving JetBlue the leeway to charge without risking too much anger.
The second major change, beginning in mid-2016, will see JetBlue stuff an additional 15 seats into its A320s, which now carry 150 passengers. That "densification" will help to lower the airline's overall operating costs, even though a fourth flight attendant will be required. One important cost-saving measure: The seats will weigh about 1,000 pounds less per plane than the old seats.
A new generation of slimmer economy-class seats has helped airlines around the world pack more people onto planes. JetBlue's fleet-wide seat pitch—the space between a point on a seat and the same spot on the seat in the next row—will drop from 34.7 inches to 33.1 inches, just ahead of the 32.6 inches on Virgin America. At the other extreme, Spirit gives travelers just 28.3 inches, followed by Delta at 31.3 inches, according to data from SeatGuru.com.
What's not changing, however, is JetBlue's free satellite TV at each seat and the speedy broadband Wi-Fi service used by 43 percent of passengers. That audience has attracted the attention of advertisers, and JetBlue says it is currently negotiating deals with sponsors. (The largest in-flight Internet provider, Gogo, has a use rate of about 6 percent.)
"Because of that high penetration, we can take a very different approach to monetization," says Marty St. George, a JetBlue senior vice president. Through its advertiser deals, JetBlue has covered the cost of the service for 2015, he said. It has studied a fee for Wi-Fi and concluded that corporate partnerships are more financially attractive.
Even with free Wi-Fi, JetBlue bag fee will court a customer backlash. Even so, the company will retain one argument to help make travelers stomach the charge and pay up: The rest of the U.S. airline industry is much worse. Have some free blue chips.