Israel Boosts Security After Jerusalem Synagogue Attack
Calev Ben-David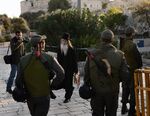 Hundreds of police reinforcements fanned out across Jerusalem and concrete barriers were erected in some Arab neighborhoods as Israel tightened security in the city following a deadly Palestinian attack on a synagogue.
Roadblocks were placed on access streets to Arab areas to facilitate security checks, Israel's Public Security Ministry said in an e-mailed statement outlining the new measures. The ministry has also proposed easing gun ownership requirements for residents of the city and is examining increased use of a practice known as administrative detention, which allows police to hold suspects without charge for extended periods.
The measures follow the killing of four rabbis on Nov. 18 when assailants attacked a synagogue during morning prayers. A Druze Arab police officer also died of wounds sustained in a gun battle with the two attackers, who were shot and killed.
Israel has promised tougher measures against the families of people who carry out attacks. Security forces this week demolished the home of a Palestinian resident of east Jerusalem accused of deliberately plowing his car into a train station last month, killing a baby girl and a young woman.
Some Israeli officials advocated harsher security measures, including Economy Minister Naftali Bennett, who suggested deploying security forces permanently within Jerusalem's Arab areas.
'What It Takes'
"We have to do what it takes starting now to move from defense to offense, instead of just putting guards at every synagogue, restaurant and kindergarten," Bennett told Army Radio yesterday.
B'Tselem, an Israeli organization that advocates for Palestinian rights, criticized some of the government's proposed security steps as collective punishment.
"Administrative detention is a very draconian measure, and expanding its use would be objectionable," B'Tselem spokeswoman Sarit Michaeli said by phone. "Restricting movement around an entire Arab neighborhood should be used only as a limited security measure, and not to punish entire communities."
'Complete Calm'
Violence has gripped Jerusalem since a Palestinian teenager was burned alive in July in suspected retribution for the killing of three Israeli Jewish youths shot to death by their kidnappers in the West Bank. The tension has been heightened by disputes over prayer rights at the contested Jerusalem shrine known to Muslims as the al-Aqsa mosque complex and to Jews as the Temple Mount.
Palestinian President Mahmoud Abbas denounced the synagogue attack and called for a sustained period of "complete calm." The 79-year-old leader has urged the barring of Jews from the al-Aqsa compound.
Israeli Prime Minister Benjamin Netanyahu said that while it was "good" Abbas condemned the attacks, it wasn't enough. "The world sees the massacre, but doesn't demand that the Palestinians stop the wild incitement against Israel, which is the root of the conflict," said Netanyahu, 65. "I want to see shock and sincere abhorrence of these murderous acts."
Before it's here, it's on the Bloomberg Terminal.
LEARN MORE