pursuits
College Students Figure Out How to Engineer Make-Out Sessions
By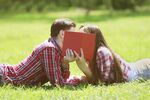 Last month, a student group in Ball State University's Leadership Communication course celebrated a significant milestone for their class project: Two of their peers had their first kiss.
The kissers, Brandon and Claire, were one of three student couples whom Ball State junior Albert Jennings and about 30 other students had matched up as part of a project called Cardinal Chemistry. The project was inspired by a similar social experiment called "40 Days of Dating," and designed ostensibly to see if engineering the right set of circumstances could make two people fall in love.
Three men in the class volunteered to be the "bachelors." After inviting female Ball State students to attend a mixer at a campus library, the students picked three women to play the part of the bachelorettes. In the weeks that followed, the team sent the couples on excursions, including a trip to Panera Bread and a date at a corn maze.
Two of the couples have since broken up. But Mary Moore, who teaches the course, calls the project "incredibly successful."

Moore acknowledges that some might question the educational value of sending college students on dates, but says her goal was to teach teamwork and communications, skills that employers will expect of her students once they graduate. The best way to do that, she says, was to leave it up to her students to pick a project they'd be interested in working on. Jennings's pitch won a class vote.
"A project that a student has a vote or influence in doing would have a higher level of commitment than a project that I would perhaps have chosen," Moore says. "I want to be a student-driven instructor, and get students to think critically, build connections to different things as they study leadership, and apply it to what they're doing."
Despite the Bachelor-style spectacle of their well-documented courtships, Jennings says that for the student couples, the sandwich shop dates felt like a throwback.
"Normally for us in school, you find people on social media or through a friend of a friend, and there's a lot of texting and getting to know people through questions in texts that in the '50s you'd ask on a first date," he says.
Jennings is now working on a research paper exploring how traditional dating differs from hookup culture.
Before it's here, it's on the Bloomberg Terminal.
LEARN MORE