A Chinese Smog-Fighting Strategy: Fewer Cars, Cleaner Air
By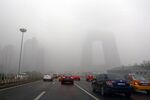 As Beijing residents look back fondly on the blue skies during the APEC summit, the Chinese government is reassuring a skeptical public that it intends to keep pollution away from the Chinese capital. To clear away the city's smog in time for the visit of President Obama and other leaders, China imposed limits on industrial production and vehicular traffic, and on Monday, Nov. 17, the People's Daily reported that Beijing's top Communist Party official said some of those restrictions should continue. "We need to keep the APEC blue," said Guo Jinlong, the capital's party secretary.
If they have any hope of achieving that goal, Guo and other Chinese leaders need to clear up the country's traffic-jammed urban roadways. China is the world's largest auto market and last year was the first country with domestic sales of more than 20 million vehicles.
But growth is slowing, with the China Association of Automobile Manufacturers expecting demand this year to increase just 4.6 percent, down from the 10 percent it had predicted at the start of 2014. Fewer cars could lead to cleaner air. Or at least that seems to be the thinking of regulators, who are contributing to the slowdown by imposing limits on new vehicle registrations. This year, Beijing has slashed its registration cap to 150,000 vehicles, down from the previous 240,000. Five other cities have limits, too, including Hangzhou and Tianjin, both of which instituted them at the start of 2014.
"Chinese auto sales may stall if more governments impose limits on new-vehicle registrations to ease congestion and pollution," Bloomberg Intelligence analyst Steve Man wrote in a report published yesterday, Nov. 18.
If so, executives at Volkswagen, Ford Motor, and other automakers are in for some disappointments. On Monday, Volkswagen's top China executive said the company would increase its Chinese capacity from 2013′s 3.1 million vehicles to more than 4 million by 2018. Ford yesterday announced it would begin manufacturing the new Ford Edge, a three-row, seven-seat SUV, in China next year. The Edge will have plenty of competition: Chinese automakers are introducing or revamping a total of 43 sport utility vehicles over the next 18 months, according to data compiled by Bloomberg Intelligence.
All those SUVs coming on the market could get in the way of promises to maintain the clean-air momentum from this month's summit, but maybe Chinese officials can at least persuade automakers to offer some of those SUVs in the environmentally friendly shade of APEC Blue.
Before it's here, it's on the Bloomberg Terminal.
LEARN MORE