Irish Bubble Deja-Vu Again Unites Bankers, Politicians
Joe Brennan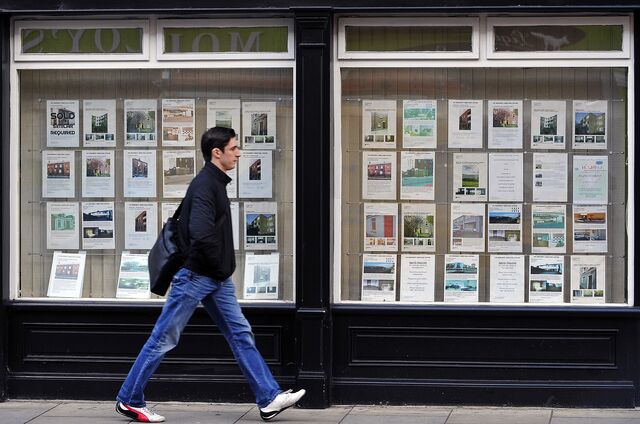 Irish politicians and bankers agree that easy credit was ultimately to blame for the collapse of the country's economy. Now they agree that the country mustn't go too far in imposing limits to prevent another bubble.
Ireland's central bank, attempting to temper a resurgent housing market, last month proposed that most new mortgage loans should be capped at 80 percent of a property's value. A week later, Deputy Prime Minister Joan Burton questioned the plan, saying it would hurt young buyers. Her view was echoed by other politicians.
"We must recognize the appalling mistakes of the past," Brian Hayes, former junior finance minister and now a member of the European Parliament, told bankers at a conference last week. "It's neither fair nor reasonable, however, to require first-time buyers to come up with such a large deposit."
Most bankers have stayed away from such debates after a credit spree caused the near-collapse of Ireland's financial system in 2008. Yet executives from Bank of Ireland Plc to Royal Bank of Scotland Plc were last week quick to warn political leaders about the likely effect of the proposed lending limits.
"You should always be wary when politicians and bankers are singing from same hymn sheet -- particularly now, when the government owns or controls a very large part of the banking system," said Stephen Kinsella, economics lecturer at the University of Limerick. "It's important that we listen to the independent regulator first."
Led by Patrick Honohan, the central bank proposed that no more than 15 percent of new loans to owner-occupiers amount to more than four-fifths of a property's value. The bank also wants to restrict the number of loans that are in excess of 3.5 times borrowers' income.
Final Decision
Honohan, who will make a final decision on credit limits in January, wants to prevent another credit bubble. By 2006, close to peak of the housing market, one-third of first-time buyers were given 100 percent loan-to-value mortgages, with Irish banks borrowing money from overseas lenders to finance those loans.
The ensuing credit crunch helped drive up the country's 10-year bond yield to 14.2 percent in July 2011.
An international bailout helped save the banks and the yield on benchmark 10-year Irish government bonds has since dropped to 1.53 percent.
As the economy recovers, familiar challenges are emerging. Irish home prices climbed 15 percent in the 12 months through September, driven by a 23 percent increase in Dublin. The root cause is a lack of homes rather than excessive credit, bankers and brokers say.
Mortgage lending will amount to 3.8 billion euros this year, Goodbody Stockbrokers estimates, rising from 2.5 billion euros in 2013. That compares with 40 billion euros in 2006.
Broken Leg
"I don't think anybody is against responsible lending," said Karl Deeter, founder and compliance manager at Irish Mortgage Brokers in Dublin. "But trying to solve a serious housing supply problem like this is the same as treating a broken leg with radiotherapy."
Jim Brown, chief executive of Royal Bank of Scotland Group Plc's Ulster Bank unit, told lawmakers last week that the caps would rule out loans to more than two-thirds of its first-time buyer customers. Some banks have been willing to lend 4.5 times combined income to higher-rated borrowers, according to Davy, Ireland's largest securities firm.
Others executives say the credit limits may not even work. Bank of Ireland Plc Chief Executive Officer Richie Boucher said the rules could prompt would-be buyers to borrow from other sources for a deposit.
Family Help
In Sweden, where the financial regulator capped mortgages at 85 percent of property values in October 2010, many borrowers turned to family to help finance the cash part of the payment while some instead used higher-cost unsecured loans.
Some 24 percent of mortgage borrowers needed help with the down payment in the period between 2012 to 2014, up from 6 percent in the period from 2000 to 2004, state-owned mortgage lender SBAB said in a report in June.
"More and more people need financial help from relatives with their property purchase, which in the longer term threatens to shut large groups out of the housing market," Tor Borg, chief economist at SBAB, said in a report.
Burton, who leads the Labour Party, last month described the deposit requirements laid out by the central bank as "high," while Prime Minister Enda Kenny scrambled to come up with a possible compromise. Last month, Kenny said the government should consider introducing a mortgage-insurance program as he seeks to ensure that home ownership is attainable for "young, credit worthy families."
Banks were handing out loans of as much as 92 percent of a property's value before the central bank's proposals, said Philip O'Sullivan, an economist in Dublin at Investec Plc.
"The ultimate ceiling that is chosen will be somewhere between that and 80 percent, with some element of an insurance scheme also put in place," O'Sullivan said.
Before it's here, it's on the Bloomberg Terminal.
LEARN MORE