Brazil's Inflation Unexpectedly Slows to Within Target Range
David Biller and Rachel Gamarski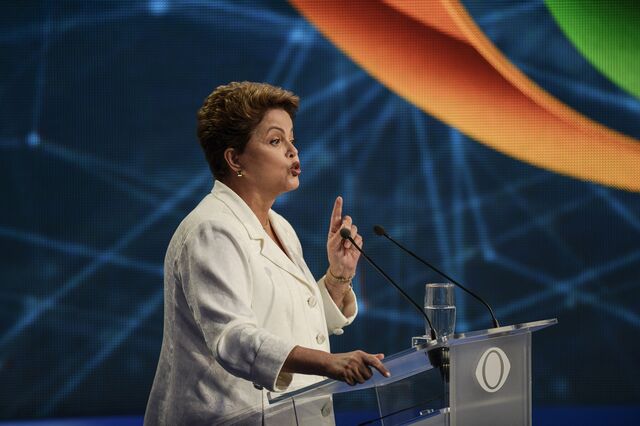 Brazilian consumer prices rose less than analysts expected in the month through mid-November, bringing annual inflation back within the target range.
Prices measured by the benchmark IPCA-15 index climbed 0.38 percent, compared with 0.48 percent a month earlier, the national statistics agency said on its website today. Prices rose less than expected by all 37 analysts surveyed by Bloomberg, whose median estimate was 0.49 percent.
President Dilma Rousseff pledges to fight above-target inflation while stimulating economic growth and the labor market in her second term, which starts Jan. 1. Days after her election victory, policy makers raised borrowing costs for the first time in four meetings to more than a three-year high. Less than three weeks later, Rousseff said she would cut government spending without harming investments or consumption.
"The most important and most favorable aspect of the surprise is that it wasn't limited to just a single factor," Jankiel Santos, chief economist at Banco Espirito Santo de Investimento, said by phone from Sao Paulo. "All the goods came in a little bit lower than we were expecting."
Swap rates on the contract due in January 2017 fell two basis points, or 0.02 percentage point, to 12.63 percent at 11:54 a.m. local time. The real, which has depreciated 13 percent in the past three months, fell 0.2 percent to 2.5872 per U.S. dollar.
Unemployment in October dropped to 4.7 percent, according to a separate release from the statistics institute. That was a record low for the month and below all but two economists' estimates. Their median forecast was 4.9 percent.
Annual Inflation
Annual inflation decelerated to 6.42 percent, below economists' 6.54 percent median estimate. The central bank targets inflation of 4.5 percent, plus or minus two percentage points. Consumer price increases may slow to as low as 6.2 percent by year-end, said Santos, who is reviewing his forecasts based on today's data.
"Inflation is growing less, which is good news -- food, airfare, etcetera," Finance Minister Guido Mantega told reporters in Brasilia. "At this time of the year, normally inflation would be accelerating a little and it isn't."
Food and beverage prices rose 0.56 percent in the month through mid-November, after a 0.69 percent increase a month earlier, the statistics agency said. Housing price increases, which include electricity bills, slowed to 0.56 percent from 0.8 percent, as the data didn't reflect much of the electricity rate increase in Rio de Janeiro, according to Leonardo Costa, an economist at Rosenberg Consultores Associados.
'Very Beneficial'
"This deceleration was very beneficial, we had foodstuffs decelerating quite a bit," Costa said by phone from Sao Paulo."But we have to see how long this is going to last."
Policy makers on Oct. 29 raised the benchmark rate a quarter point to 11.25 percent. Their split decision surprised 53 of 54 analysts surveyed by Bloomberg, who forecast borrowing costs would remain unchanged for a fourth straight meeting as the government labors to stimulate growth.
The inflation data today indicate the pace of the monetary tightening cycle will not accelerate, and will continue with quarter-point increases in the central bank's next three meetings, Bruno Rovai, a Brazil economist at Barclays Plc, said in a note to clients. Daniel Snowden, emerging markets analyst at Informa Global Markets in London, agreed in a telephone interview that the central bank will maintain the pace until the Selic reaches 12 percent.
'Additional Measure'
Recalibration of monetary policy "will depend on fiscal policy and inflation," Mantega said in Brasilia. "With today's more moderate inflation, that means that no additional measure is necessary, in my opinion."
Rousseff, who won re-election in October, will cut public spending that doesn't support domestic consumption or investment to meet the fiscal target next year, she told reporters Nov. 16 at the summit of the Group of 20 nations in Brisbane, Australia. She has yet to name a successor for Mantega, who said that day he doesn't expect radical changes in her second term.
'People Approved'
"The president was elected because people approved of this economic policy that generated employment and increased their income," Mantega said in Australia.
Some signs suggest weakness in the labor market. The number of government-registered jobs fell by 30,283 in October, the month's first decline since at least 2003. Manufacturers tend to hire in October, so the drop is a "strong alert signal," Irineu Carvalho, senior vice-president of economic research at Banco Itau BBA SA, told reporters Nov. 14.
"The headline for unemployment is obviously very encouraging," Informa's Snowden said by phone. "However, given the poor state of job creation, I'm not putting too much faith in that unemployment number for now."
Gross domestic product contracted 0.6 percent in the second quarter following a revised decline of 0.2 percent in the first three months of 2014, marking the first recession since 2009. The statistics institute is scheduled to publish third-quarter GDP data on Nov. 28.
Economists surveyed Nov. 14 by the central bank forecast Brazil's economy will grow 0.21 percent in 2014 after climbing 2.49 percent last year. They estimate inflation will slow to 6.4 percent by December, which would be the fastest year-end rate since 2011.
Before it's here, it's on the Bloomberg Terminal.
LEARN MORE