Boehner May Have Found the Perfect Lawyer for His Obama Lawsuit
He may be a "liberal lawyer," but Republicans are hoping that Jonathan Turley can lead them to victory against the president.
By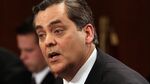 After losing two law firms to political pressure, House Speaker John Boehner may have landed the perfect person to sue President Barack Obama: Jonathan Turley, a lawyer who supports the health care law, but believes the president has violated the constitution.
Politico reported Tuesday that Turley, a George Washington University law professor, has agreed to represent the House in its suit against Obama over the administration's delay of Obamacare's employer mandate.
In a blog post announcing his new gig, Turley said that the only reason he didn't take on the case sooner was that he was busy with other cases. If anything, he wrote that "the House 'had me at hello' in seeking a ruling to reinforce the line of authority between the branches."
Turley is a well known constitutional expert who supports national health care but has consistently argued that the president's implementation of the law violated the constitution. "In that sense," he wrote on his blog, "it has more to do with constitutional law than health care law."
That makes Turley the liberal so-and-so who is suing the president—as in, even a liberal agrees with the not-exclusively-conservative argument that Obama is violating the constitution. Turley's political leaning doesn't affect the GOP's legal argument, but it does give the party's poltical argument a boost, especially in the conservative blogosphere.
"Liberal Lawyer to Represent House of Representatives Against Obama," read headline at the Weekly Standard; "Jonathan Turley may be a liberal but he is not happy with the explosion of executive power that Obama has given himself," writes the conservative BizPac Review.
Turley's complaints go beyond Obamacare. On Friday, Turley appeared on Fox News' "The Kelly File" and said Obama's immigration plan, another potential lawsuit target, "is tearing at the very fabric of the constitution," and Democrats will "rue the day when we helped create this uber presidency." Those comments inspired another round of "liberal lawyer" posts from the National Review and TownHall.
Legal experts have argued that Obama does have the power to delay certain parts of a law—like the employer mandate—if it will help with the overall implementation of the law. But before a judge considers the merits of that argument, the House has to prove it has standing to sue the president in the first place. In other words, Turley has to prove that the president's actions hurt the legislative branch. 
Turley knows just how hard it is to prove standing in a suit against the president—in 2011 a judge threw out his case attempting sue the administration over the Libyan airstrikes.
Of course, the very first step is actually filing the lawsuit, which Turley's addition makes that much more likely.