Why Did So Many People Flunk the Bar Exam This Year?
by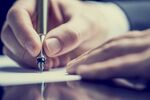 The most recent bar exam test results are in, and they are ugly. In several states, people who took the bar in July were more likely to fail than those who took it last year, and scores on one portion of the test dropped to their lowest point in 10 years.
Are America's law graduates really getting dumber? The people who put together the bar exam seem to think so.
The National Conference of Bar Examiners, a nonprofit that prepares one of the state-specific multiple-choice sections in which scores dropped dramatically, sent a curt message to law school deans in October. "The results are correct," wrote Erica Moeser, the group's president, in an Oct. 23 memo. "The group that sat in July 2014 was less able than the group that sat in July 2013,"
It's technically true that this year's crop of grads was "less able" than before, if you use their pre-law-school test scores as a proxy for their smarts. The median LSAT score among students at American law schools has declined every year from 2010 to 2013, according to an analysis by Jerry Organ, a law professor at the University of St. Thomas. Last year, Organ found, law schools admitted 50 percent more students with low LSAT scores than they did three years ago.
Those numbers suggest that students might have been less prepared, but the figures may not be dramatic enough to explain this year's bar results. Organ analyzed how LSAT scores have tracked with scores on the exam in the past, and he found that this year's J.D.s should have performed slightly worse. Instead, they bombed.
Organ and additional law professors point to another culprit: a software glitch that affected test-takers for hours in July. At the end of the first day of testing, people who took the test in one of 43 states in which test company Examsoft administers the bar exam were unable to upload their answers for hours, stretching into late evening. The error eventually led states to extend the upload deadline; students went back to work on the test the following day. Examsoft said no answers were lost, but many feel that the time spent contending with software issues and the anxiety that resulted may have hurt students' performance on the rest of the test.
"I was up until 1:00 a.m. trying and praying for my exam to go through. When I finally did get to bed, I barely got 2 hours rest because I had to be up at 5:00 a.m. to start day two of the bar," one test-taker was quoted as saying in an August lawsuit that law grads filed against Examsoft.
Nancy Leong, a law professor at the University of Denver, remembers getting dozens of texts, e-mails and phone calls from students "in various degrees of panic" the night that Examsoft went on the fritz. One women cried for 20 minutes, Leong says. Another asked whether she should cancel the test that night, given how badly she expected to do in the morning. Blaming the drop in scores exclusively on a less-competent group of test-takers ignores how the glitch affected people, she says. "I think that it's insulting."
For its part, Examsoft points out that scores dipped everywhere, including such states as Virginia and Arizona that didn't use the company's software. The bug may have caused a bout of future-lawyer hysteria, but observers note it shouldn't eclipse the quality problem law schools face.
As fewer people apply to law school, many programs have accepted less-qualified applicants in order to keep class sizes the same and to sustain their bottom line, says Derek Muller, a law professor at Pepperdine University. "This drop, while bigger than expected, is just a sign for what's going to come for law schools as the incoming classes continue to decline in quality."
Before it's here, it's on the Bloomberg Terminal.
LEARN MORE