Wagyu Beef in Coach Gives Budget Travelers Upgrade: Globetrotter
David Fickling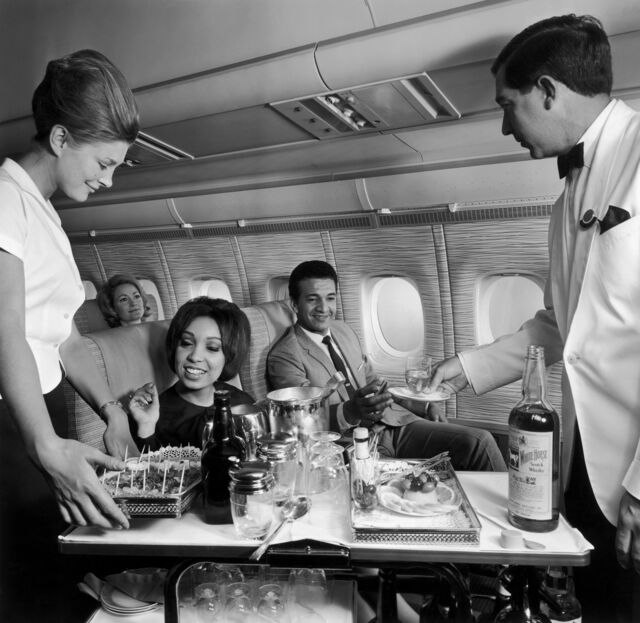 Economy-class fliers who for years suffered through overcooked pasta and stale bread on long-haul flights are getting a taste of upscale cuisine as airlines devote more effort catering to the rear of the aircraft cabin.
Qantas Airways Ltd. is exchanging food trays on overseas trips for serving individual courses by hand, including braised wagyu beef with polenta and chocolate mousse. Air France-KLM Group has fancy a la carte options on some routes, while British Airways gives coach passengers a sampling of traditional English fare: battered cod fillet and chunky fries.
Food can present a branding challenge for an industry that has poured more resources into promoting lucrative premium travel rather than economy class, where most people are seated. In an era when social media lets anyone document culinary shortcomings, carriers are paying fresh attention to menus in the back of the jet to avoid a backlash from disgruntled diners.
"What you do in premium tends to drive you how you go about designing your economy service," said Emirates President Tim Clark, whose airline owns the largest fleet of Airbus A380 superjumbos deployed on a network to more than 140 destinations.
Hellish Trip
As at a restaurant, food can quickly erode a carrier's reputation if it doesn't hit the mark with customers.
Virgin Atlantic founder Richard Branson once phoned a passenger to apologize after receiving a complaint letter describing a "culinary journey of hell" featuring mashed potato the traveler said appeared to have been passed "through the digestive tract of a bird."
"Unless you fly five times a week, for most people it's an adventure, and the meal is part of that," said Marco 't Hart, whose airlinemeals.net website draws about 45,000 monthly visitors to browse photographs of in-flight meals. "Flying makes a big impression on people."
The new Qantas menus, which will be rolled out starting Nov. 25, feature a single main meal on a small carry tray that is handed out along with a cutlery bag.
Airline caterers charge for each movement on production lines, so minimizing the number of items put on trays means Qantas can spend an extra 40 percent on the food in each meal without paying more as a whole. The shift also reduces waste, a savings that can add up at the Sydney-based carrier that uses 5 million single-serve butter pats a year.
Reputational Risk
"If you take on a tray, you traditionally have to lay out all the components," Chief Executive Officer Alan Joyce said. Large trays also take up space on meal trolleys, leading to long waits for food as cabin crew make their way down the aisle. "The service with this is 30 minutes faster, because you're fitting a lot more meals on the cart."
In-flight food has been a challenge since 1919, when Handley Page Transport Ltd. offered 3-shilling lunch boxes on the converted World War I bomber biplanes it operated between London and Paris. The typical components of an airline meal started out as a way to echo the dining on ocean liners and railroad saloons.
Spending more to improve quality isn't always an easy option, either: the average airline flight in 2013 made about enough profit per passenger to buy a sandwich, according to International Air Transport Association CEO Tony Tyler.
That hasn't stopped airlines looking for innovative ways to improve their economy-class food. For a fee, Air France offers coach passengers a selection of four a la carte options that have to be pre-booked, including foie gras terrine and pan-seared scallops with Duglere orange sauce.
Fast Food
Japan Airlines has been serving up brand-name fast food since last year, a development popular with customers, spokesman Kentaro Nakamura said. Passengers received Yum! Brands Inc. KFC meals last year and are currently given beef-and-rice bowls from the Yoshinoya Holdings Co. chain, he said.
Virgin Atlantic, which made its mark with upscale flourishes that include chauffeur pickups and designer lounges, overhauled coach meals in 2012 by separating the service into courses, giving passengers more of a restaurant feel.
While travelers on shorter flights in Europe and the U.S. have become accustomed to minimal service and snack food for purchase, Qantas's global network requires the airline to feed passengers multiple meals on day-long journeys on planes as big as the A380 double-decker.
CEO Joyce aims to solve the cost-versus-quality quandary by saving money on the things passengers don't care about, such as mini-cheese courses and dessert crockery. Bringing food on in bulk is cheaper and means passengers get it hand-delivered by cabin crew, according to the airline, with the added bonus of increasing interaction between staff and passengers.
"It's the consumer who looks after us, not so much the designer of the aircraft or the engineer," said Emirates President Clark, whose airline is a partner with Qantas. "We never lost sight of the fact that economy class is so important to us, and still is."
Before it's here, it's on the Bloomberg Terminal.
LEARN MORE