Another Year of the Chicken: U.S. Beef Supply Will Fall Again in 2015
By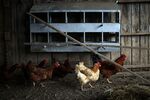 It's been an expensive year to eat beef, and 2015 doesn't look any cheaper.
The U.S. Department of Agriculture expects (PDF) the beef supply to decline 3.6 percent, or 1 billion pounds, next year as domestic production decreases and imports are constrained by tight global supply. It looks almost certain that beef's downward trend will stretch at least another year. The retail price of ground beef was up 17 percent in September from a year earlier, and steaks and roasts (PDF) also got pricier, according to the U.S. Bureau of Labor Statistics.

In a Chick-fil-A-worthy twist in the battle of cow vs. chicken, the beneficiary of record-high beef prices appears to be poultry producers. Consumers have traded down to less expensive meats such as chicken. Boneless chicken breast, for instance, is 3.5 percent cheaper per pound compared with the price in September 2013. And poultry prices will likely stay low: The USDA predicts the poultry supply will grow almost 2.8 percent in 2015.
Meat producers have felt the transition. "With consumption shifting away from high-priced beef, we expect chicken demand to increase by at least 3 percent in 2015," said Tyson Foods Chief Executive Officer Donnie Smith on an earnings call on Monday.
The same is happening in restaurants. At Chipotle Mexican Grill, for example, some customers chose chicken over beef after the chain increased the menu price for steak by about 9 percent, compared with only 5 percent for chicken.
Domestic beef production has been waning for years because of rising feed and energy prices. A drought in 2012 caused feed prices to spike and, in response, farmers thinned their herds. Corn prices have finally started to drop, and ranchers have begun to restock, but prices will stay high for a while. Unlike chicken, which can be ready for slaughter two months after birth, cattle take 16 to 18 months to be ready for market.
Tyson's Smith said the company is forecasting cattle supplies to be down about 4 percent in 2015, "but that should be the worst of it." By 2016, Tyson expects supplies will be down no more than 1 percent.
Before it's here, it's on the Bloomberg Terminal.
LEARN MORE