pursuits
The NFL Suspends Adrian Peterson, and the Sponsors Stay Quiet
By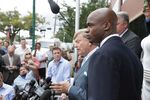 The National Football League has suspended Minnesota Vikings running back Adrian Peterson for at least the remainder of this season, a punishment that comes after Peterson pleaded no contest to misdemeanor charges for whipping his four-year-old son with a switch. The lengthy suspension—Peterson won't be considered for reinstatement before April 15—and the accompanying 1,600-word explanation from the NFL stand in contrast to the initially tepid response over the summer summer to domestic abuse by former Baltimore Ravens running back Ray Rice.
The public relations crisis from the Rice case left NFL commissioner Roger Goodell defending his job, spurred an ongoing investigation by a former FBI director, and pushed corporate sponsors to compose statements of concern and disappointment. "We are not yet satisfied with the league's handling of behaviors that so clearly go against our own company culture and moral code," Anheuser-Busch said at the time. None of the league-wide sponsors cut ties, and most promised vigilance: "We are watching developments on these matters closely, and we are confident that the League will take the appropriate steps," a Fedex spokesman Patrick Fitzgerald said in September, capturing the broader sponsor attitude.
So was Tuesday's suspension an appropriate step? "Fedex supports the steps the NFL has taken to address personal conduct and prevent domestic violence," says Fitzgerald. Anheuser-Busch spokesman Nick Kelly declined to expand on the "not yet satisfied" statement from September. Verizon representative Ed McFadden also offered no comment today. Back in September, Verizon Chief Executive Officer Lowell McAdam pledged "to work with our partners at the NFL to be a voice for change."
PepsiCo spokesman Jay Cooney likewise said in an e-mail that his company has no new comment. "We believe that [PepsiCo Chief Executive Officer] Indra Nooyi addressed this in our company statement back in September on the issue." In that statement, Nooyi wrote that the league's future behavior could "help shape how we, as a nation, as a society, and as individuals treat domestic violence and child abuse."
The sponsor verdict on the NFL's handing of domestic abuse, in other words, is still out. Or the companies have decided that fan outrage has subsided enough to go back to staying mum.
NFL players and their union, meanwhile, see today's suspension as capricious and a violation of the collective bargaining agreement. "I will not allow the NFL to impose a new process of discipline on me, ignore the [collective bargaining agreement], ignore the deal they agreed to with me, and behave without fairness or accountability, " Peterson said in response. "You get the feeling over the last few months that the National Football League has simply been making it up as they go along," NFL players' union Executive Director DeMaurice Smith said on ESPN's Mike & Mike radio show on Tuesday morning.
After two months of relative quiet, the NFL is back at the center of a conversation about abuse—its response again being second-guessed.
Before it's here, it's on the Bloomberg Terminal.
LEARN MORE