Mapping 20 Years of Major Meteor Impacts
NASA wants to use this project to predict Earth's next dangerous space rock.
By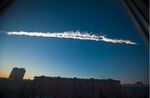 Last February, a yacht-sized space rock ripped into the atmosphere above Russia and exploded, emitting an eardrum-wrecking shock wave that damaged more than 7,000 buildings and injured hundreds with flying glass.
For those who would prefer not to experience a sequel to the Chelyabinsk incident, is there anywhere they can seek safety from galactic bombardment?
It doesn't seem like it, to judge from this new NASA map of space debris smashing into our celestial dome. The color-coded cartography shows the global penetration of at least 556 "small asteroids" from 1994 to 2013—"small" being deceiving here, as these fiery "bolides" lie on the larger end of the meteor spectrum, often producing superbright flashes and percussive booms. What's clear is that the distribution of extra-large meteorites is random, affecting every ocean and continent (the fewer-seeming meteors around the poles is actually a result of map distortion).
The folks at NASA's Near-Earth Object Program say the most powerful fireball during this time period was indeed Chelyabinsk's, carrying the energy of up to 500,000 tons of TNT. They hope the data underpinning this map will reveal when the next huge meteor could crash-land, because such an earth-shaking event is coming... sometime. Writes the space agency:
"The aim is to find potentially hazardous asteroids before they find us," said Donald Yeomans, manager of NASA's NEO Program Office at the Jet Propulsion Laboratory....

Studies of Earth's history indicate that about once every 5,000 years or so on average an object the size of a football field hits Earth and causes significant damage. Once every few million years on average an object large enough to cause regional or global disaster impacts Earth. Impact craters on Earth, the Moon and other planetary bodies are evidence of these occurrences.