Landrieu and Roberts Get Personal on Keystone
Tuesday's Senate debate included some personal barbs.
By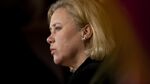 Today's debate on whether to build the Keystone pipeline made for predictably bland C-SPAN viewing—until, that is, a reality TV-worthy personal exchange between two senators erupted:
"How convenient that we now finally have an opportunity to at least vote on this bill just before an election in Louisiana," Kansas Senator Pat Roberts sniped from the Senate floor. "But if this bill passes today, will the president sign it into law, or will the president simply continue to straddle the pipeline until after the runoff election in Louisiana? Seems to me the president owes an answer."
The senator in question, Mary Landrieu—who indeed may lose the seat she's held for three terms when the votes in her runoff election are cast Dec. 6—was insulted by the accusation that she and the president were playing politics with the long-delayed Keystone vote. 
"I was very disappointed in the senator from Kansas when he came down and said something like he finds it strange ... he's kind of bemused that we would be debating this because he thinks that this is some kind of political opportunity," Landrieu said when she took the Senate floor. "You know, I have a lot of respect for the senator from Kansas. We've been through some pretty tough meetings together. When this country was under attack on 9/11, I was the chair of Emerging Threats and he was the ranking member. He's a Marine. I always joked, he's a Marine and I'm a Girl Scout, so I think he has one up on me. But nonetheless, we both have a pretty good code of honor. And for him to come to the floor after being in the foxhole with me on that day, and to say that he thinks this is some kind of convenient opportunity for me is really beneath the dignity of himself, the Marine Corps and the state that he represents.
"This is a serious issue. We should have debated it months ago and the only reason we didn't—and Harry Reid's on the floor here, he's heard me say this to him in private, and I will say it in public—is because neither leader could get their caucuses in a position to have this debate, and there are many reasons for it. But those reasons cleared up after this election, and that's why we're having this debate. Because I asked for it and I appreciate the members, no matter how they vote, having this debate. Because if we have more debates like this in America, people might be hopeful that we could get something done."
Landrieu, who is one of two remaining Democrats in Louisiana's Congressional delegation, has been seen as pushing passage of the pipeline as a way to distance herself from President Obama and demonstrate that she is a power player in the Senate whose views align with voters in the conservative, industry-friendly state.