Islamic State's Oil Refining Undercut by Airstrikes: U.S.
David Lerman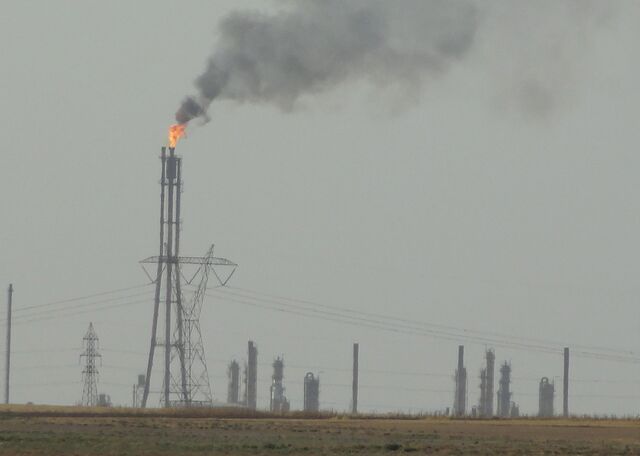 U.S.-led airstrikes against Islamic State extremists have eliminated most of the Sunni terrorist group's oil-refining capacity and reduced its revenue, a State Department envoy said.
Islamic State has lost at least 22 of its modular refineries, wiping out at least 11,000 barrels a day of refining capacity since airstrikes began, said Amos Hochstein, acting special envoy and coordinator for international energy affairs.
While more must be done to dry up the oil revenue, "we believe our efforts have been successful," Hochstein said today on a conference call with reporters.
Illicit oil sales at discounted prices are a substantial source of revenue for Islamic State, along with income from extortion, ransom and taxes on the population in areas it controls in Iraq and Syria. In addition to airstrikes, the U.S. has been pressing neighboring countries to do more to curtail oil smuggling.
Islamic State may still be producing about 50,000 barrels of crude a day, possibly generating about $1 million daily from smuggling it, said Hochstein, who emphasized that estimates vary and may not be reliable. That equals $20 a barrel, well below the market price.
"Revenue has fallen significantly" since airstrikes began, he said. Islamic State declared a self-styled caliphate in northwestern Iraq and eastern Syria after taking over a swath of Iraq, including Mosul, in June.
Brent crude for January settlement declined 67 cents, or 0.8 percent, today to $78.64 a barrel on the London-based ICE Futures Europe exchange.
Turkey, Jordan
Islamic State consumed about half the oil it produces, according to a report last month by IHS Inc.
Trafficking has encouraged middlemen to buy crude and smuggle it into Turkey, Jordan or Iraq, where it's blended with other oil and sold to unsuspecting buyers, Englewood, Colorado-based IHS said.
Bombing oil-field pumping stations may be the best way to cut off the flow of oil because they are stationary and difficult to replace, Bhushan Bahree, a co-author of the IHS report, said in an interview last month. Airstrikes haven't eliminated truck-mounted refineries that Islamic State uses to produce fuel for its war machines and for civilians within its territory, he said.
Bartering Crude
The loss of refining capacity has forced Islamic State to barter crude oil for refined products in some cases, Hochstein said. The U.S. is also trying to determine whether Syrian President Bashar al-Assad is buying oil from Islamic State, which seeks to oust him.
"We are looking into that to see what we can learn," he said.
Previous estimates by U.S. intelligence officials and analysts of terrorist financing had pegged Islamic State's oil revenue at more than $2 million a day.
Islamic State had control of seven oil fields and two refineries in northern Iraq, and six of 10 oil fields in eastern Syria, according to Luay al-Khatteeb, a visiting fellow at the Brookings Institution's Doha Center in Qatar.
A United Nations panel yesterday called on governments to seize all oil tanker trucks entering or exiting from territory controlled by Islamic State to help curb smuggling.
Iraq, Turkey
The U.S. has had conversations with Iraq, Turkey and Iraqi Kurds to target smuggling routes used by the trucks, Hochstein said.
"Our allies are taking a stepped-up approach to the smuggling effort," he said.
The U.S.-led targeting of Islamic State's oil revenue began in late September with a barrage of airstrikes in Syria.
In a single day, Sept. 24, U.S. and Arab warplanes and drones struck 12 modular refineries used by Islamic State, the U.S. Central Command said.
"These small-scale refineries provided fuel to run ISIL operations, money to finance their continued attacks throughout Iraq and Syria and an economic asset to support their future operations," the command said in a statement at the time, using an acronym for the group's former name.
Before it's here, it's on the Bloomberg Terminal.
LEARN MORE