Greenspan Conundrum Risk Rising for Fed as BOJ, ECB Add Stimulus
Benjamin Purvis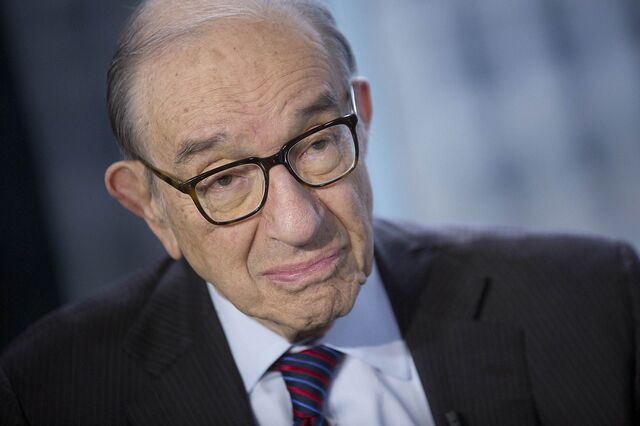 The risk bond yields will fail to climb as the Federal Reserve increases its cash benchmark is rising, echoing the dilemma faced a decade ago by then Chairman Alan Greenspan, according to money manager QIC Ltd.
While the Fed is poised to tighten monetary policy, the Bank of Japan and the European Central Bank are creating ever more liquidity. That will enter the U.S. unless the lenders can steer improvement in consumer and business sentiment in their local economies to soak up the funds, said Matthew Peter, chief economist at the Brisbane, Australia-based fund manager, which oversees the equivalent of more than $60 billion.
"If the liquidity flows into the U.S., and the subsequent suppression of bond yields that that would imply, that could create financial conditions in the U.S. that are too loose for the U.S. economy," Peter told reporters today in Sydney. Such a scenario could spur the Fed to lift its benchmark faster than markets expect, in a manner "not too dissimilar to what happened during that Greenspan era," he said.
Greenspan said in 2005 he faced a "conundrum" in which a global savings glut helped keep long-term rates low even as the Fed raised short-term rates to try to curb lending.
While the Fed Funds rate was lifted from 1 percent at the end of 2003 to 4.25 percent at the end of 2005, the 10-year yield rose just 0.15 percentage point over the same period. The U.S. is once again looking to raise its benchmark after economic improvements, as Japan and Europe face the risk of deflation.
Eerie Similarities
"There's a lot of eerie similarities" between the present and the Greenspan era, Peter said, likening the liquidity being created by the ECB and the BOJ to that provided by a savings-soaked China a decade ago. While a repeat of Greenspan's conundrum wasn't his central scenario, Peter said the odds of it occurring had risen to about 10 to 20 percent.
The U.S. 10-year yield was at 2.33 percent as of 6 a.m. in London, down 0.7 percentage point since the end of 2013. Fed Funds futures are pricing in about a 75 percent chance of at least one increase in the cash rate by the end of next year.
"Even with the Fed changing course, in 2015 you're going to get a $1.4 trillion increase in liquidity injections, which is about 40 percent more than what happened in 2014," said Peter. "Liquidity into the global economy's going up, not going down. The question is: where is that liquidity going to end up?"
Before it's here, it's on the Bloomberg Terminal.
LEARN MORE