From Harkin to Levin to Occupiers, Progressives Bail on Landrieu
A pro-Keystone senator sees his office occupied as the vote approaches.
By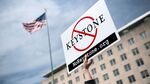 This morning, my colleague Michael Bender reported on why Delaware Senator Tom Carper had switched from "no" to "yes" on cloture for the Keystone XL pipeline. An hour or so later, half a dozen environmental activists had occupied Carper's Senate office, in the heights of the Hart building, to sing songs, wear signs, and back him down. They were not new to the scene.