From Harkin to Levin to Occupiers, Progressives Bail on Landrieu
A pro-Keystone senator sees his office occupied as the vote approaches.
By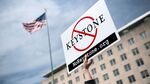 This morning, my colleague Michael Bender reported on why Delaware Senator Tom Carper had switched from "no" to "yes" on cloture for the Keystone XL pipeline. An hour or so later, half a dozen environmental activists had occupied Carper's Senate office, in the heights of the Hart building, to sing songs, wear signs, and back him down. They were not new to the scene.
"Some of us were arrested at the Federal Energy Regulatory Commission," said Ellen Taylor, who wore a leather cap and clutched an orange "NO KXL" flag. "Hands up, anyone who's been arrested?" 
A half-dozen hands went up. The protesters had only just heard that Carper was a swing vote, and they rushed over. Charles Chandler, an activist who was biking across the country as the anti-Keystone "green rider," wore his helmet and spandex into the office. Everyone else was dressed for the weather, the biting cold that, to the eternal consternation of green activist, seems to attack D.C. when key climate votes approach.
"Carper is the only safe Democrat who's doing this," said Chris Meyer. "I think he's really inviting a primary challenge."
"We are here to get the senator to change his vote," said Taylor. "No KXL! No KXL! No KXL!"
The protesters were mild, as office-occupiers go. Veterans of 2013's sit-ins for immigration reform (this did not include Carper, who always favored reform) could recall people crouched on the floor, and clamors that echoed outside the room. The Keystone protesters, who had just put a rubber "pipeline" in front of Senator Mary Landrieu's house, had more support inside the Democratic conference. Landrieu was clearly struggling to win 60 votes for cloture. Even her retiring progressive colleagues were unmoved to vote with her.
"Every dollar that we spend on fossil fuel development and use is another dollar we spent digging the graves of our grandchildren," Senator Tom Harkin of Iowa told reporters. "I'm not going to be a part of it anymore. I'm through."
Michigan Senator Carl Levin, who's also retiring, told reporters that Landrieu could not win his vote.
"I've been consistent," he said. "She knows I'm opposed to it because of the environmental impact statement."
Back in Carper's office, the assembled protesters unfurled a banner: Senator Carper, if you're not a climate denier, don't vote like one. They started in on more songs.
Senator Carper!
Senator Carper!
What you gonna do?
What you gonna do?
Block this pipeline!
Block this pipeline!
Hayden Higgins, a former journalist who left to work for U.S. Climate Plan, stood to the side and questioned why Carper would buck his own environmental beliefs to bail out Landrieu.
"That's a really cynical thing to do," Higgins said. "She's not going to win (her Dec. 6 runoff) anyway. Why mortgage our entire future for a senator who's not even going to be here in two months?"