Facebook Makes Groups Feature Into Separate Mobile App
Sarah Frier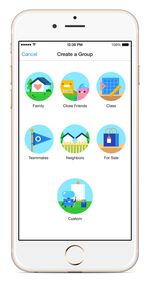 Facebook Inc. is splitting off another piece of its service into a separate application.
The social network introduced Groups, a mobile app for the most frequent users of the company's existing tool for organizing, messaging and collaborating with groups of people. The feature already has more than 700 million monthly users. Having a separate application will help people use Groups faster and more easily, the company said today in a blog post.
Facebook has been pursuing a strategy of breaking up its feature-packed main social network into smaller parts more suited to specific purposes, as it did with its Messenger mobile-messaging app earlier this year. Users were irked when Facebook forced people to download Messenger in order to use the messaging function -- something Facebook said was meant to improve their experience.
"You can still use Facebook Groups in the main Facebook app and on desktop, and over time we'll continue to make those experiences faster and better, too," the company said in the post.
The list of apps Facebook owns keeps growing. It's been almost a year since the Menlo Park, California-based company started its Creative Labs effort to put more applications into the market and retain entrepreneurial engineers. Since then, the company has released many apps, among them Slingshot, a Snapchat Inc. competitor for disappearing photos; Mentions, an app for celebrities to see what people are saying about them; Hyperlapse, an app for time-lapse videos; Rooms, an app for anonymous group sharing; and Paper, an app for consuming news and Facebook posts in a magazine style.
Before it's here, it's on the Bloomberg Terminal.
LEARN MORE