Citizens United, Steve King Call 2016 Candidates to Iowa
They seek to place their stamp on the early jockeying among Republicans.
By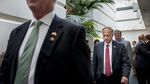 The conservative advocacy group Citizens United and Representative Steve King are calling prospective 2016 presidential candidates to Iowa for an inaugural "Freedom Summit" as they seek to place their stamp on the early jockeying among Republicans.
The event was announced Tuesday and will be held in Des Moines on Jan. 24, just more than a year ahead of the tentative date for the Iowa caucuses, the first balloting in the nomination process. Senator Ted Cruz of Texas, former Arkansas Governor Mike Huckabee, former Senator Rick Santorum of Pennsylvania, Senator Mike Lee of Utah and former Hewlett-Packard CEO Carly Fiorina are among the confirmed speakers so far.
"Coming off our successful New Hampshire Freedom Summit last spring, the Iowa Freedom Summit will only build on that success and bring grassroots conservatives together in the Hawkeye State," said David N. Bossie, president of Citizens United, in a statement. "It will feature speakers who will talk about the importance of pro-growth economics, social conservatism, and a strong national defense."
Bossie's group is best known as the plaintiff in the Supreme Court case that sanctioned unlimited, independent campaign spending by corporations and unions. 
"Midterm elections gave our country a dramatic shift in possibilities," said King, who is Iowa's most conservative U.S. House member, in a statement. "It is exactly the right time to bring our national leaders to Iowa to hear them cast a conservative vision for our nation's future."
In the past, King has invited presidential candidates to his annual pheasant hunting event. This year, New Jersey Governor Chris Christie joined him for a luncheon, but did not actually hunt.