China's 245 Million Migrant Workers Are Getting Older
By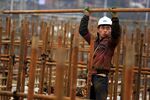 China's migrant worker population is getting bigger and older and includes more families living together, a government report released today shows.
With 245 million migrant workers as of the end of 2013, China's liudong renkou, or floating population, now amounts to one-sixth of all Chinese. That's up from 236 million  a year earlier, says the study, released on Nov. 18 by the National Health and Family Planning Commission.
With China's entire population aging, it's no surprise that its migrants are getting older, too. The report says that the average age of migrant workers has gone from 33.1 years old in 2011 to 33.7 at the end of last year. And they are more likely to move with their families: The number of migrant worker parents bringing their children with them (6- to 15-year-olds) has risen to 62.5 percent, up 5.2 percentage points from 2011.
That's good news. China has 61 million "left-behind children", the offspring of migrant workers who are separated from their parents and still living in the countryside, according to some estimates. They make up more than one in five of all youth in China and often suffer from psychological problems, including juvenile delinquency, and are prone to high rates of dropping out of school.
The jump in children accompanying their worker parents may suggest that life for migrant families may be slowly starting to improve. China's leaders have made urbanization a top goal and aim to lift the proportion of people living in cities from just over 53.7 percent now to 60 percent by 2020.
To encourage that, China's economic planners announced last November that they will start to allow migrants to get more access to urban benefits including pensions, health care, and crucially education for their children. Progress on the complicated and expensive reforms, however, has been limited.
Before it's here, it's on the Bloomberg Terminal.
LEARN MORE