China Stocks Drop for Fourth Day as Bourse Link Enthusiasm Fades
Bloomberg News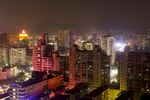 Chinese stocks dropped, with the benchmark index declining for a fourth day, as enthusiasm toward an exchange link with Hong Kong waned and falling home prices added to concerns that an economic slowdown will deepen.
Citic Securities Ltd. slid 2.7 percent in Shanghai. Hong Kong Exchanges & Clearing Ltd. tumbled 2.4 percent, extending yesterday's 4.5 percent drop, as mainland investors used less than 8 percent of their 10.5 billion yuan ($1.7 billion) quota to buy Hong Kong stocks today. Poly Real Estate Group Co. and China State Construction Engineering Corp. slumped at least 2.7 percent. New-home prices decreased in all but one city monitored by the government last month as developers offered discounts to cut inventories.
The Shanghai Composite Index fell 0.7 percent to 2,456.37 at the close, while the Hang Seng China Enterprises Index slid 1.2 percent. Both indexes declined yesterday after initially rallying as the link between the two cities debuted. International investors bought 4.8 billion yuan of Shanghai shares today, out of the maximum daily amount of 13 billion yuan, after using all the quota yesterday.
"The stock link has already been priced in," said Wei Wei, an analyst at West China Securities Co. in Shanghai. "The weakness in the house market will be drawn out because prices are still at a high level. The drag on the economy could also be protracted."
The CSI 300 Index dropped 1 percent, as gauges of energy and financial companies declined most. The Hang Seng Index retreated 1.1 percent.
Lack of Interest
Citic Securities dropped the most since Oct. 27. HKEx sank to its lowest level since Nov. 6. The stock has tumbled 6.7 percent this week as quotas for mainland investors to buy Hong Kong shares went largely unfilled and the city's foremost companies failed to lure Chinese interest, confounding the predictions of Deutsche Bank AG, BNP Paribas SA and Goldman Sachs Group Inc.
Shares of Tencent Holdings Ltd. and Galaxy Entertainment Group Ltd., identified by analysts as likely targets for mainland investors, extended yesterday's declines. Tencent slumped 2.6 percent today, its biggest loss since Sept. 22, and Galaxy Entertainment retreated 3 percent.
Hong Kong stock purchases through the link yesterday totaled 1.77 billion yuan, less than 14 percent of the amount bought by foreign investors in Shanghai.
Developers Drop
A measure tracking property stocks in the Shanghai Composite slid 1.6 percent. Poly Real Estate, China's second-largest developer by market value, lost 2.7 percent. China State Construction, the nation's largest housing contractor, dropped 3.1 percent.
Home prices declined in 69 of 70 cities in October from September, the National Bureau of Statistics said today. That's the same as in September, which was the most since January 2011 when the government changed the way it compiles the data. Home prices will continue to drop "modestly" next year as developers offer promotions or discounts to reduce stock that will remain high, according to Moody's Investors Service.
Sinotex Investment & Development Co., a Chinese maker of cashmere products, rose 9.9 percent as it traded for the first time since July. The company agreed to buy Essence Securities Co. in an 18.3 billion yuan reverse merger.
Shanghai International Port (Group) Co. gained by the 10 percent daily limit as it traded for the first time in more than two months. The company said it will sell shares to its employees in a private placement.
The Shanghai Composite is valued at 9 times 12-month projected earnings, compared with the five-year average multiple of 10.7, according to data compiled by Bloomberg. Trading volumes in the measure were 14 percent lower than the three-month average today.
— With assistance by Shidong Zhang
Before it's here, it's on the Bloomberg Terminal.
LEARN MORE