How Could Uber Punish People Who Complain About Uber?
By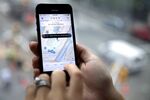 Uber has a problem. On Friday, a senior executive with the car service floated the idea of hiring a squad of opposition researchers to dig up unflattering information on reporters—at a dinner with journalists. And in the course of explaining the company's policies, Buzzfeed Executive Editor Ben Smith reported on Monday, Uber NYC's general manager accessed the Uber profile of a Buzzfeed reporter, Johana Bhuiyan.
A company spokesperson told Buzzfeed that hunting through journalists' travel logs to make a point would be a clear violation of Uber policies, and he said that the company has never considered doing "oppo research" on journalists. But the company has a history of punishing those who publicly criticize it: Last month an Uber driver had his account deactivated after writing a tweet critical of the service. (The driver was later reinstated.)
Could Uber punish reporters by deactivating them, too? Under federal law, there's nothing to stop Uber from adopting such tactics. "The First Amendment restricts government and not private entities, and thus private entities are allowed to discriminate on the basis of speech in ways that government may not," says University of Virginia Law Professor Frederick Schauer. The 1964 Civil Rights Act bans private companies that provide places of public accommodation, such as hotels and restaurants, from refusing people service based on their race or religion. But it doesn't ban discriminating against customers based on their opinion of said company—which is why restaurants are within their rights to kick out food critics who write nasty reviews.
State and local law, however, is more complicated. In Uber's home state of California, for example, the 1959 Unruh Civil Rights Act "has been construed to forbid all forms of arbitrary discrimination in public accommodations," says Cornell Law professor Michael Dorf. A court could conclude that the definition of "arbitrary" protects Uber customers who are also Uber critics.
In Maryland, things are clearer: The Maryland Public Service Commission ruled in August that Uber was a "common carrier," a type of regulated business like an airline or railroad company. University of Denver Law Professor Nancy Leong notes that common carriers are severely limited in their ability to reject customers. She says most jurisdictions are unlikely to follow suit, leaving Uber free to "refuse service just like any other business (for being drunk, for not wearing a shirt, and yes, probably for writing a negative review)."
Before it's here, it's on the Bloomberg Terminal.
LEARN MORE