Taylor Swift, One Direction, Mary J. Blige ... and the Chopsticks Brothers?
By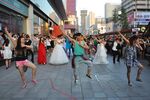 Is America ready for the Chopsticks Brothers? The Chinese duo—Xiao Yang and Wang Taili—are the creative team behind Little Apple, a song that's become a sensation in China since its debut last summer. With its bouncy tune, simple lyrics, and outlandish settings (including the two stars naked in the Garden of Eden, dressed as ancien régime aristocrats on a beach, and as village sweethearts during the Korean War), the music video for Little Apple is a viral hit and "has been played 823 million times on China's major music and video streaming sites," according to China Daily. The tune is everywhere. Even the People's Liberation Army has used the song in a recruitment video.
Television viewers in the U.S. may have a chance this week to see for themselves what the Chopsticks Brothers are like. The Chinese media reported yesterday that the pair will perform Little Apple at the American Music Awards this Sunday, along with stars more familiar to Americans, including Mary J. Blige, Fergie, and One Direction. And, oh yeah, some singer born in 1989.
Making it onto prime time with such A-list stars is a big deal, and not just for the Chopsticks Brothers. "This is the first time a Chinese 'god' song (a term for songs that go viral on the Internet) will be showcased on the global stage," China Daily reports. The show could be a breakthrough for the country's soft-power campaign, an effort by the state-backed entertainment industry to make Chinese culture more popular worldwide. Envious of the influence the U.S. has around the globe because of Hollywood, Chinese leaders have tried to soften the country's image abroad by showcasing its performers.
The campaign isn't just about pop songs: The government is also promoting the spread of Confucius Institutes, state-funded programs to teach Chinese language and culture. In the past decade, 465 Confucius Institutes have opened worldwide—although not without controversy. Recently, schools such as the University of Chicago and Penn State have announced plans to part ways with the Confucius Institute.
The Little Apple saga reflects a different kind of shortcoming of China's soft-power campaign. The song is a big hit on Youku Tudou, the Beijing-based video service that's attracted investments from Chinese heavyweights including Alibaba Group and Xiaomi. One reason Youku can lure such investors, of course, is that China keeps out the company that would otherwise be its biggest threat: YouTube. Along with Facebook and Twitter, YouTube is off-limits to most Internet users in China, thanks to the censorship of the Great Firewall.
That's good news for Youku, but it does make going global much harder for Little Apple or any other Chinese song. On Youku, Little Apple fans have watched the video at least 166 million times. But not many people watch Youku outside China. To become a global hit, a song needs a major presence on Google's video service—and on YouTube, Little Apple is little more than a novelty song. Among several links for the song on YouTube, the most popular one I found had 1.6 million views in five months. Not bad, but in just four days a video of Benedict Cumberbatch's celebrity impressions had already received almost 4.2 million. And fellow American Music Awards performer Taylor Swift? In three months, her Shake It Off video has 280 million views.
Before it's here, it's on the Bloomberg Terminal.
LEARN MORE