Zimbabwe Vice President Denies Accusation of Treason
Brian Latham and Godfrey Marawanyika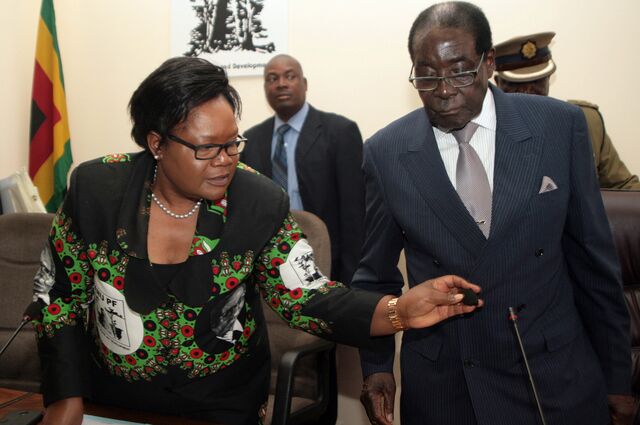 Zimbabwean Vice President Joice Mujuru denied accusations of treason after a state-run newspaper said she's at the center of a plot to assassinate President Robert Mugabe.
The Sunday Mail reported yesterday that "there is no way that Mujuru can be separated" from a plan by former ruling Zimbabwe African National Union-Patriotic Front spokesman Rugare Gumbo and the party's secretary for administration, Didymus Mutasa, to kill Mugabe. The newspaper later removed the story from its website, though the headline and a cached version of the article were still available today.
The allegations were motivated by "hubris and malice" in order to bring Zimbabwe, Zanu-PF and Mugabe "into disrepute," Mujuru said today by phone from Harare, the capital. She has sought legal advice to "restore my good name," she said. Mutasa's phone was switched off when Bloomberg called seeking comment.
The allegations against Mujuru and her denial were the latest development in a fight within Zanu-PF to find a successor to Mugabe, who has ruled the southern African nation since independence from the U.K. in 1980 and turns 91 in February.
Gumbo Suspended
Gumbo, who was suspended from Zanu-PF for five years during a politburo meeting last week, denies the existence of a plot to overthrow Mugabe. The party expelled Jabulani Sibanda, leader of the Zimbabwe National Liberation War Veterans's Association who backed Mujuru and accused Mugabe's wife Grace of staging a "bedroom coup."
"We've been accused by the president of trying to overthrow him," Gumbo said by phone from Harare today. "He says we've done wrong and should go, but it's part of a smear campaign designed to undermine the vice president."
Grace Mugabe, some veterans of Zimbabwe's independence war and state-controlled media have made repeated accusations of corruption against Mujuru in recent weeks, calling for her resignation. Mujuru, who says her loyalty to Mugabe is "unwavering," had declined to comment until yesterday's report in the Sunday Mail.
"No amount of malicious statements about me, my late husband, family or business associates, real or imagined, will deter me from assisting the president of Zimbabwe and upholding the country's constitution," she said.
Mujuru, who's been vice president since 2004, is a former guerrilla fighter and the widow of Solomon Mujuru, who died in a house fire in 2011 under circumstances Joice described as suspicious.
Before it's here, it's on the Bloomberg Terminal.
LEARN MORE