Boeing $8.6 Billion Material Order Propels Toray Shares
Masumi Suga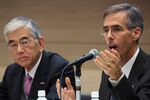 Toray Industries Inc., the world's largest carbon fiber maker, said it agreed to expand supplies of light-weight composites to Boeing Co., in a contract worth 1 trillion yen ($8.6 billion) over 10 years.
The deal, which includes the renewal of an agreement worth 700 billion yen that runs from 2006 to 2021, should be signed by the end of the year, spokesman Toshiki Matsumura said by phone. The contract was reported earlier today by the Nikkei newspaper.
Toray, which already provides composites for Boeing's 787 Dreamliner, will supply material for the wings of its wide-body 777X jet, the Chicago-based planemaker said in a separate statement. The companies will also collaborate on the commercialization of composites including improving their performance and lowering costs, Boeing said.
The Tokyo-based company's shares rose as much as 6 percent to 857.4 yen, their highest level since 2008. At 2:27 p.m., they were at 844 yen. As part of the deal, Toray will build a plant in the U.S. for 100 billion yen, according to the Nikkei.
Boeing said it expects to purchase $36 billion in goods and services from Japan by the end of the decade. In June, it said it had retained Mitsubishi Heavy Industries Ltd. and Kawasaki Heavy Industries Ltd., as part of a consortium of five Japanese firms that will provide parts for over a fifth of its 777X model.
Before it's here, it's on the Bloomberg Terminal.
LEARN MORE