Starbucks Criticized for Ties Vermont GMO Law's Opponents
Leslie Patton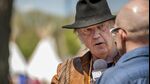 Rocker Neil Young and other activists are criticizing Starbucks Corp. for its membership in a trade association fighting Vermont's new food-labeling law.
An advocacy group called SumOfUs wants Starbucks to sever ties with the Grocery Manufacturers Association, which has sued to block Vermont's legislation -- a move supported by Monsanto Co. Starbucks says it has nothing to do with the lawsuit, though it is a member of the GMA. The Vermont bill, which passed earlier this year, requires labeling of foods that contain genetically modified organisms, or GMOs.
SumOfUs has gathered more than 300,000 signatures on a petition calling on Starbucks to drop its GMA membership. The campaign got a boost last week from Young, the 69-year-old rock legend. He said on his personal website that he would no longer buy his lattes at Starbucks in protest.
Starbucks, based in Seattle, said it's being pulled into a conflict that it's not fighting.
"Starbucks is not a part of any lawsuit pertaining to GMO labeling nor have we provided funding for any campaign," the company said in a statement on its website. "Starbucks is not aligned with Monsanto to stop food labeling or block Vermont state law."
Vermont became the first state in the U.S. to make GMO labeling mandatory, following failed attempts to pass similar laws in California and Washington. In a lawsuit filed in June, the GMA and three other groups said the law violates free speech rights and conflicts with federal findings that GMOs are safe.
GMO Concerns
Half of U.S. consumers are concerned about the safety of genetically modified foods, according to research by NPD Group Inc. The U.S. Food and Drug Administration has rejected calls to mandate special labeling for GMOs, while allowing companies to voluntarily say on packaging that certain foods don't contain GMOs, as long as those statements are truthful.
The GMA, based in Washington, represents at least 300 food, beverage and consumer products companies, including Kraft Foods Group Inc., General Mills Inc. and Mondelez International Inc.
Starbucks says it hasn't taken a position on GMO labeling, though it would rather not deal with state-by-state legislation.
"As a company with stores and a product presence in every state, we prefer a national solution," Starbucks said.
Before it's here, it's on the Bloomberg Terminal.
LEARN MORE