Senate Democrats to Obama: Go Ahead on Immigration
Heidi Przybyla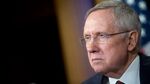 Senate Democrats urged President Barack Obama to issue orders halting deportation of undocumented immigrants that go beyond protecting individuals with family ties in the U.S. to include vital workers.
In a letter to Obama today, Senate leaders including Majority Leader Harry Reid of Nevada said the president shouldn't be cowed by Republican threats to tie up government funding and risk a shutdown if he makes good on his promise to act on immigration.
"Some Republicans are claiming that you do not have the authority to act," wrote Reid, along with Senators Richard Durbin of Illinois and Charles Schumer of New York, the second-and third-ranking Senate Democrats. "But we know that you, like previous presidents, have broad executive authority to shape the enforcement and implementation of immigration laws."
Obama is in the final stages of crafting a plan that would provide relief from deportation to many undocumented immigrants who are parents of U.S. citizens, according to people familiar with administration planning. It might also include parents of legal residents and immigrants brought to the country as minors.
The prospect of executive action has created a confrontation with Republican lawmakers, who accuse the president of an unconstitutional power grab that will poison the environment for bipartisan compromise in the new Congress.
A group of Republicans in both chambers is vowing that they will try to block funding to implement Obama's order. If that holds up a spending bill, the federal government would have to cease many of its operations on Dec. 12.
No Shutdown
"Members of their caucus are saying some really scary things," Reid said today in a speech on the Senate floor. "Can these Republican leaders stand up to these people who are intent on holding our government hostage?"
House Speaker John Boehner and incoming Senate Majority Leader Mitch McConnell have stressed they don't want a government shutdown. Even so, support is building within their party to find a way to resist Obama's orders.
"All options are on the table," Boehner told reporters on Nov. 14 in Washington, while declining to say what Republicans might do. "We're going to fight the president tooth and nail on this if he continues to go down this path."
Among the other Democratic senators signing the letter to Obama are Patty Murray of Washington, who heads the Budget Committee, Michael Bennet of Colorado and Robert Menendez of New Jersey.