Samsung Moving Phone Engineers a Lesson in Speed for Sony
Pavel Alpeyev and Grace Huang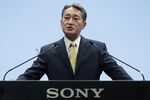 Samsung Electronics Co. is giving Sony Corp. a lesson in quick decision-making by moving engineers from its smartphone unit less than a month after posting a profit slump in the business.
Samsung is transferring about 500 workers from mobile phones and allocating them largely to the Internet of things initiative, according to people familiar with the matter. Sony Chief Executive Officer Kazuo Hirai today told investors about targets for higher entertainment earnings after previously saying the company has been slow in adapting to change.
The move highlights Samsung's ability to make speedy decisions at its biggest business even as Chairman Lee Kun Hee remains hospitalized, a contrast to Sony's struggle to revive the phone unit since buying out Ericsson AB's share in 2012. The Korean company's mobile division was responsible for Samsung last month reporting its lowest quarterly profit since 2011.
"Unlike its Japanese peers, at Samsung its chairman's plans are executed fast," Atul Goyal, a Singapore-based analyst at Jefferies Group LLC, said in a telephone interview yesterday. "Being family-controlled has worked in their favor."
Operating profit at Samsung's mobile unit slumped to 1.75 trillion won ($1.6 billion) in the three months ended September from a record 6.7 trillion won a year earlier. Sony's mobile communications unit lost 172 billion yen ($1.5 billion) in the period, after booking a one-time charge.
"Samsung is a company that is very good at manufacturing, if not at innovation," Goyal said. "It will fix itself in a few years."
China Challenge
Shares of Sony climbed 6.4 percent to 2,478.5 yen in Tokyo today, the highest since April 2011. The stock is up 36 percent this year.
The company today said it's targeting sales of $10 billion to $11 billion at the motion pictures business in the year ending March 31, 2018, with an operating income margin of as much as 8 percent. The music business is projecting sales of as much as $5.2 billion in the same period, Sony said today.
The outlook for its entertainment unit comes less than a month after Sony cut its smartphone sales forecast for a second time, citing poor performance in China. The company will end development of models for the country, Chief Financial Officer Kenichiro Yoshida said at the time. Yoshida will address Sony investors in Tokyo on Nov. 25 when the company holds a separate briefing on its electronics operations.
IPhone Competition
"I can only conclude that our response to these environmental changes has been neither effective, nor nimble enough and that we have been late in enacting decisive change," Hirai said on May 22, according to a Bloomberg transcript of a conference call.
Four months later, he widened Sony's loss forecast for the year ending March and said the Tokyo-based company will cut 1,000 jobs in the smartphone business, or 15 percent of the unit's labor force.
Both Sony and Samsung battle Apple for the high end of the smartphone market, while fending off Chinese manufacturers including Huawei Technologies Co., Lenovo Group Ltd. and Xiaomi Corp. in the mid-range and low-end market.
Samsung's Internet push is one of the first major initiatives under Lee Jae Yong, who has taken on more of a leadership role since his father, Chairman Lee, was hospitalized in May. The heir apparent, 46, has to calm investor concerns over the business outlook and his leadership skills.
Samsung responds faster than Sony, Goyal said. "When they see something working even if a little bit, they will speed up much faster, shift people and resources into it and push very aggressively."
Before it's here, it's on the Bloomberg Terminal.
LEARN MORE