Recession Gloom Trumps Tax Delay Optimism in Japanese Stocks
Toshiro Hasegawa, Yoshiaki Nohara and Anna Kitanaka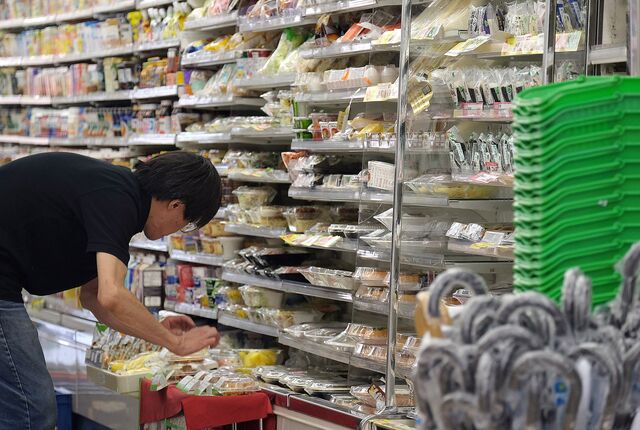 Stock investors weighing the pros and cons of a surprise contraction in Japan's economy decided it's a reason to sell.
Bulls see the 1.6 percent annualized slide in gross domestic product as raising the chances Prime Minister Shinzo Abe will push back a sales-tax increase that could further hurt growth. Bears say it also sends the world's third-largest economy into recession and calls into question the success of Abe's policies to revive Japan. Those looking on the bright side are being drowned out today: the Topix index plunged 2.5 percent, the most in six weeks. The Nikkei 225 Stock Average sank 3 percent.
For Daiwa Securities Group Inc., the fall in GDP outweighs any positives in terms of delaying the levy or heralding further stimulus. Economists had expected a 2.2 percent expansion after a revised 7.3 percent contraction in the second quarter. Investors are taking profit now that the sales-tax boost is all but dead, according to Standard Chartered Plc.
"We expected an increase of about 2 percent in GDP in the worst-case scenario," said Kazuhiro Takahashi, chief economist at Daiwa Securities. "That it's negative doesn't show that the economy is having difficulty bouncing back: it says things are getting worse. Stock prices have to adjust to reflect this."
Gavin Parry, managing director of Parry International Trading Ltd. in Hong Kong, agreed.
"The street is focusing on underlying fundamentals," Parry said by phone. "I would say it's not the headline number, but the components of the GDP read, i.e. capex is still terrible and consumption is showing a very slow recovery."
Tax Delay
Private consumption rose 0.4 percent in the July-September period, the Cabinet Office said today in Tokyo, missing estimates for a 0.8 percent gain. Capital spending dropped 0.2 percent in the three months, below estimates for a 0.9 percent advance. The April increase of the sales levy to 8 percent from 5 percent in the second quarter triggered the deepest contraction in economic growth in more than five years.
The data make "it certain the tax increase will be delayed," said Kenji Shiomura, a Tokyo-based senior strategist at Daiwa Securities. "Investors are selling on the fact after pricing in an election."
The Topix jumped 2.7 percent last week amid reports Abe would put off the tax increase planned for October 2015 and call snap elections. The equity gauge surged 19 percent through Nov. 14 from an Oct. 17 low.
"Japan has been up quite a lot," Manpreet Gill, a senior investment strategist at Standard Chartered in Singapore, said by phone. "When you see strong moves like that, the market usually looks for an excuse to sell and today that's the GDP data. We're still neutral on Japan."
Abenomics Prospects
For Gill, what matters over the longer term is the success of Abe's policies to revive Japan.
"Investors will have to see Abenomics proceeding with or without the elections," he said.
Others are already looking beyond the sales tax to the possibility of further support for the nation's economy.
"It's official, Japan is now in recession," Jesper Koll, head of Japan equity research at JPMorgan Chase & Co., told Bloomberg TV. "Monetary policy is already on full blast to counter against the recession. The next move is fiscal policy with the delay in the VAT hike next year now a virtual certainty."
Nicholas Smith, a strategist at CLSA Ltd. in Tokyo, points to strong corporate profits and the prospects for further stimulus as reasons to be bullish.
"Japanese stocks had had a great run, up 19 percent in 19 sessions," he said by e-mail. "A little cooling off is fine. When mulling stimulus, bad news is good news. It means extra stimulus. Yummy. We have bad GDP but profits at an all-time high. Equities buy a piece of profits but not a piece of GDP."
Before it's here, it's on the Bloomberg Terminal.
LEARN MORE