Obama, McConnell, And a Bottle of Bourbon
"Saturday Night Live" imagines what would happen if the president and incoming Senate majority leader really did have a drink together.
By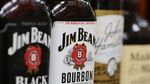 Saturday Night Live's cold open over the weekend imagined a so-called bourbon summit between President Barack Obama and soon-to-be Senate Majority Leader Mitch McConnell. The scene was inspired by Obama's remarks following the midterm elections, saying he'd enjoy bonding with he Kentucky senator over a bit of his state's tipple.