Modi Moves Like Jagger as Indian Diaspora Flocks to Sydney
Narayanan Somasundaram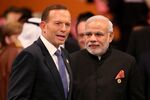 Narendra Modi took center stage today at the same Sydney arena where The Rolling Stones played to sell-out crowds last week, as thousands of supporters flocked to hear the Indian prime minister speak.
Following on from his address to the Indian diaspora in New York's Madison Square Garden in September, Modi addressed 21,000 people at Sydney's Olympic Park where he promised visas for Australian tourists would soon be made available on arrival at Indian airports. Among the crowd were 220 Indians who chartered a train dubbed the "Modi Express" for the 12-hour journey from Melbourne to the event.
Modi's trip to Australia, where he attended the Group of 20 summit in Brisbane at the weekend, came six months after his landslide election win and is the first bilateral visit by an Indian prime minister since 1986, according to his Twitter feed.
"If you start from India at night, you reach Australia by morning, but the Prime Minister of India took 28 years to come," Modi said to cheers and chants of his name. "I've come to assure that you will never have to wait for 28 years again."
Supporters waved the nation's tri-color flag and donned Modi masks and T-shirts as they made their way into the arena. The inside of the Modi Express was decked with saffron, white and green balloons and streamers, television images showed.
"Looks like it's gonna be India day in Sydney tomorrow mate," Syed Akbaruddin, a spokesman for India's foreign ministry, said in a Twitter post yesterday.
About 300,000 people born in India live in Australia, according to the 2011 census. India is Australia's 10th largest trading partner, accounting for A$12 billion in exports and imports, according to Australia's Department of Foreign Affairs and Trade.
While Rolling Stones fans paid hundreds of dollars to see frontman Mick Jagger and the band, Modi's community reception at the Allphones Arena is free -- funded by more than 200 Indian community organizations.
Modi is scheduled to address Australia's parliament in Canberra tomorrow.
Before it's here, it's on the Bloomberg Terminal.
LEARN MORE