Merchants Get PayPal, Square Loans to Ready for Holidays
Spencer Soper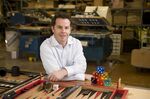 When Jeff Caruso needed money in August to make more custom backgammon sets for the holiday shopping season, he skipped the bank. Instead, he got a $12,000 loan from EBay Inc.'s PayPal.
Caruso, whose company was already using PayPal to process payments, jumped at the 5 percent flat fee and flexible terms that let him repay the loan using a portion of sales rather than adhering to a rigid timetable.
"PayPal takes the scare factor out of borrowing," said Caruso, owner of Providence, Rhode Island-based Crisloid Products Inc., which makes backgammon and other classic games. "There's always hiccups when you're growing."
Across the U.S., small businesses preparing for the most lucrative time of year have found a new source of capital: digital-payment providers PayPal and Square Inc. The companies have extended more than $275 million in financing to about 40,000 merchants over the past year, with demand for loans spiking when businesses need to build up inventory for the holidays. In the process, PayPal and Square are encroaching on the turf of banks and other lenders.
The practice highlights a growing side business for PayPal and Square, which can use data they collect in processing transactions to find new business opportunities. PayPal began its merchant-lending program in September 2013, with Square starting the Square Capital program in May. The companies make pre-screened loan and cash-advance offers to select merchants based on their sales histories.
Lucrative Practice
The companies are searching for new revenue sources amid increased competition from mobile-payments providers including Apple Inc. and Stripe Inc. For PayPal, there's added urgency in showing a return on investment when the company is spun off from EBay by the end of 2015.
Neither PayPal nor Square reveal how much they make by giving merchants credit. Businesses pay more to borrow money than to process transactions, where fees cost 2 percent to 3 percent. PayPal's loan fees are as much as 12 percent, while the average fee for Square's cash advances are 10 percent to 14 percent. In addition, merchants who accept loans and advances agree not to switch payment processors until their balance is paid off.
The loan fees and commitments that merchants make to stick with them outweigh the default risks, Square and PayPal said. Many merchants repay the debt and access capital again when needed, the companies said. Last spring, PayPal upped its maximum loan amount to $60,000 from $20,000 to meet the needs of bigger businesses. In August, Square announced an undisclosed funding amount from private equity firm Victory Park Capital, earmarked for its merchant cash-advance program.
Confident Underwriters
"We have a lot of small and medium-sized businesses that struggle to get working capital to build inventory," EBay Chief Executive Officer John Donahoe said in an interview. "We have all of their transaction history, so that enables us to confidently underwrite them."
Victory Park declined to comment on its Square investment.
"We're excited to see Square businesses grow and as they do, they're serving more customers, processing more payments, and subscribing to additional Square services," said Faryl Ury, a spokeswoman for San Francisco-based Square.
PayPal's and Square's merchant loans differ from traditional ones that require a monthly payment based on an annual interest rate. Merchants instead give the payment processor a percentage of each sale until the balance is repaid, along with a flat fee. If sales are slow, they pay less. When sales are brisk, they pay more.
Flexibility Rules
Merchants accepting the cash say they get the money more quickly than from a bank and like how they don't get slammed with a big bill once a month. In exchange, they pay a fee that can translate to annual percentage rates associated with high-interest credit cards and pay-day lenders.
For Jill Drnek, who has a clothing retailer in Detroit, taking a cash advance from Square in August was a matter of convenience. She needed $3,000 to buy mannequins to display men's underwear and train a part-time employee for her business, Human.
With her business in its second year, a bank loan would have taken too much time and paperwork with no approval guarantee, she said. Square could see her sales increasing because it was already processing her payments, and offered her an unsolicited cash advance.
Convenience Wins
"They said, 'Hey, we can see your sales history. We can see you can pay your bills. Do you want some money?' I thought, sure," Drnek said. "All I had to do was click yes and they had the money delivered the next day."
Drnek will pay Square $3,400, which she expects will take her several months. Most merchants repay within 10 months, according to Square.
PayPal, based in San Jose, California, and Square are wading into a crowded field. The companies are competing with banks and alternative lenders including Rapid Financial Services LLC in Bethesda, Maryland, and AmeriMerchant LLC in New York, which specialize in merchant cash advances.
Giving merchants cash advances is a $3 billion industry, said David Goldin, president of the North American Merchant Advance Association and CEO of AmeriMerchant. While PayPal and Square have the advantage of an existing relationship, brand recognition and trust with the merchants, they lack experience collecting, he said.
"Anyone can fund $50 million a month," Goldin said. "Collecting that back is a whole different story. This is unsecured working capital to high-risk merchants. They haven't done this before."
Reducing Risk
PayPal and Square say they are choosy about who receives credit. The requirement to continue processing payments with them until the balance is recouped minimizes risk, as well as the per-sale payment system, which decreases the chances a merchant skips a large monthly payment, they said.
Caroline Bell, owner of the Cafe Grumpy coffee chain in New York, is a repeat borrower. She used an advance from Square earlier this year to open her sixth location in Grand Central Terminal, and recently secured another advance to purchase retail packaging to boost holiday sales.
Bell once applied for a bank loan and the process took six months, she said. When she accepted an advance from Square, the money was available the next day.
"We're an independent company with no investors, so it's been great to have access to cash when you need it," she said. "With Square, they know you're going to have the sales so they put their trust in you."
Before it's here, it's on the Bloomberg Terminal.
LEARN MORE