Martin Signs $82 Million Contract With Toronto, Fox Says
Mason Levinson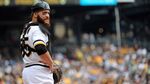 Free-agent catcher Russell Martin is signing a five-year, $82 million contract with the Toronto Blue Jays, according to Fox Sports.
Martin, who played the last two seasons with the Pittsburgh Pirates, is undergoing a physical with the Blue Jays today, Fox Sports said on Twitter, citing an unnamed person.
The three-time All-Star batted .290 with 11 home runs and 67 runs batted in last season. Martin, 31, spent his first five years with the Los Angeles Dodgers and two with the New York Yankees before joining the Pirates. For his career, he's a .259 hitter with 119 homers and 540 RBI.
The deal Martin received is similar to that of Yankees catcher Brian McCann, who was given $85 million over five years in 2013. St. Louis Cardinals catcher Yadier Molina, who has been an All-Star every year since 2009 and who won Gold Gloves at the position each season since 2008, signed a five-year, $75 million contract extension in 2012.
Before it's here, it's on the Bloomberg Terminal.
LEARN MORE