Landrieu Predicts Keystone Passage
Kathleen Hunter and Jim Snyder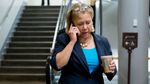 U.S. Senator Mary Landrieu and a co-sponsor of a bill to approve TransCanada Corp.'s Keystone XL pipeline are expressing confidence they'll have the 60 votes needed to pass it tomorrow.
"I feel very comfortable," said Landrieu, a Louisiana Democrat and a sponsor of the bill who faces a Dec. 6 runoff election, was quoted by CNN as saying. Co-sponsor John Hoeven, a North Dakota Republican, said in an interview there were 59 firm "yes" votes and a few "maybes."
"I think we'll have 60 votes -- 60 or maybe 61," Hoeven said in an interview today without identifying the supporters. "I think we have a pretty good chance of getting it tomorrow."
Aides to four Senate Democrats whose votes have been courted by Keystone supporters said today that the lawmakers -- Chris Coons of Delaware, Amy Klobuchar of Minnesota, Mark Udall of Colorado and Tim Johnson of South Dakota -- would oppose the bill.
Coons "believes it's the administration's decision to make and that it's not Congress's job to issue construction permits," said his spokesman, Ian Koski. "He's incredibly frustrated by how long it's taking the administration to make this decision, but he plans to vote against the straight authorization the Senate will consider."
Landrieu, a three-term senator, is running for re-election against Republican Representative Bill Cassidy, and tomorrow's Keystone vote is intended to help her win. Landrieu has trailed Cassidy in polls.
A Senate aide said on Nov. 14 that Keystone backers had secured 59 votes for the measure, and no senators have publicly said they favor the bill since then.
'Hard Time'
"This is the U.S. Congress, so we take nothing for granted," Joshua Saks, legislative director for the National Wildlife Federation, said in a phone interview.
Saks said the environmental group has spoken with some senators' aides who had questions about the process for approving cross-border pipelines and whether most of the oil shipped through Keystone would be exported.
Landrieu told reporters last week she was confident the measure would pass and faulted party leaders for not allowing a floor vote sooner. The House on Nov. 14 passed, 252-161, an identical bill sponsored by Cassidy. Thirty-one Democrats voted for it.
Tomorrow's planned Senate vote "is a cynical attempt to save a Senate seat in Louisiana," Senator John Thune of South Dakota, the third-ranking Republican in the chamber, said yesterday on "Fox News Sunday." "If the Democrats were serious about this, they would have voted on this years ago."
Nine Seats
A victory for Cassidy in the Louisiana race would bring to nine the net number of Democratic Senate seats captured by Republicans in the Nov. 4 election. Republicans will take control of the chamber starting in January.
Cassidy has sought to tie Landrieu to President Barack Obama, who has said a decision on the pipeline should await a government review of the project. Landrieu, chairwoman of the Senate energy committee, has campaigned on her influence in Washington and willingness to stand up to Obama on the pipeline and other issues that could aid her oil-rich state.
Whatever the outcome of the vote, political analysts don't think it will do much to boost Landrieu's re-election prospects.
Nathan Gonzales, deputy editor of the Rothenberg Political Report, said Landrieu is in tough shape whether or not the Senate votes on Keystone. He said in an interview, "I don't think it fundamentally changes the dynamics of the race."
Until now, majority Democrats in the Senate had blocked proposals to force approval of the pipeline. If the Senate passes the bill it would go to Obama, who could veto it.
Presidential Veto
"Every indication is the president will veto an attempt to pre-empt the regular process of reviewing the permit for this pipeline," Senator Richard Durbin of Illinois, the chamber's second-ranking Democrat, said yesterday on CNN's "State of the Union" program.
Obama has only twice used his veto pen -- in October and December of 2010. The president has stopped short of saying he would veto the bill while raising questions about the pipeline and saying Congress shouldn't short-circuit the approval process.
"One major determinant of whether we should approve a pipeline shipping Canadian oil to world markets, not the United States, is does it contribute to the greenhouse gases that are causing climate change," Obama said yesterday at a news conference in Brisbane, Australia, at the conclusion of a week-long trip to Asia.
All 45 of the current Senate Republicans have said they support Landrieu's measure, meaning at least 15 Democratic votes are needed.
Angus King
Among the senators being courted to support the bill is Angus King of Maine, an independent who caucuses with Democrats. He told reporters today he was a "probable no."
TransCanada, a Calgary-based pipeline company, proposed Keystone in 2008. It has become a battleground over jobs, climate change and energy security. Independent Senator Bernie Sanders of Vermont, who opposes construction of the pipeline, said today there's a good chance Obama would veto the measure if it reached his desk.
"I'm going to do everything I can, obviously, to try to defeat it," Sanders said. He said the pipeline would accelerate tar sand oil production, which scientists say would harm the environment.
Tiernan Sittenfeld, senior vice president for government affairs at the League of Conservation Voters, said, "We are going all out to ensure we stop this bill in its tracks."
Sittenfeld said the group was stopping lawmakers in the hallways, urging its members to call Senate offices and coordinating with environmental groups to lobby against the bill.